tile floors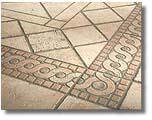 Tile Floors
Tile floors

have been a popular decorating material for quite some time, plenty of time in fact, for tile to build an impressive record of durability and versatility. And tile flooring takes to customized designs, unique glazes, and special effects with ease. One way to create an eye-catching kitchen tile floor or bathroom tile floor is to use subtle gradations in color across the entire floor.

Or, you can simply frame the room's perimeter with floor tiles in a different hue or pattern from the tiles used on the rest of the floor. You can create your own "tile rug" or one-of-a-kind tile floor by taking ordinary stock tiles and setting them in an original pattern. If you have a tile floor for the bathroom or kitchen, set it off with a border of tile insets in the flooring. You can also design a floor that combines ceramic tile with other tiles, such as granite and marble, or wood tile.
Installation Methods
How you install tile flooring depends on the tile itself and the surface where it is to be applied... residential kitchen, bathroom, living room or commercial kitchen, bathroom or lobby. Each brand of flooring is different, and each manufacturer usually includes specific recommendations for use and installation. Many tile floor installations are within the realm of capability for many do-it-yourselfers who can muster the time and patience and ably wield a straightedge, tape measure, and carpenter's level.



Flooring tools

, such as tile cutters, tile nippers, and trowels, are often sold or loaned by tile flooring dealers. It's wise to order tile for the entire project all at once, plus 10 percent more than you'll need to cover breakage and replacement. Tile can be installed over most structurally sound floors, but for new or uneven surfaces, or elaborate installations, consider hiring a licensed professional for the job.
Natural Tile Flooring
Natural tile flooring, whether ceramic or stone, comes in many different forms, almost all of them hard-wearing and impervious to water, mud, and grease. All types of natural tile flooring connote luxury (because of its high cost compared to other types of flooring) and permanence, so you may want to restrict its use to small areas, such as entryways. While stone tile flooring (granite tile, marble tile, or slate tile) is often expensive, highly decorative ceramic tile, especially if it is hand-painted, can be quite pricey too.
Tile flooring has the possible disadvantages of being cold underfoot (which actually can be an advantage in warm climates) and can be noisy under hard-soled shoes because the tile itself is very hard. Things dropped on this flooring are more likely to break, and when choosing this type of bathroom improvement, remember that tile flooring can be slippery. One final point: ceramic tile is heavy, so make sure that the subflooring in the area where you plan to install it is strong enough to bear its weight.
Resilient Tile Flooring
Resilient tile flooring is easy to install because it can be put down over almost any other type of flooring and requires little preparation. Resilient tile flooring is available in patterns that imitate ceramic or natural stone and come in various sizes, although twelve inches square is the most common. Some resilient tile floors come with an adhesive backing and can simply be pressed into place. Resilient tile is relatively inexpensive, durable, easy to keep clean, waterproof, and stain resistant. Other types of synthetic hard-surface tile flooring include asphalt and rubber tile.
Tile Floor Sampler
From the sophisticated beauty of granite and marble tile flooring to the durability of vinyl composition tile and solid vinyl tile, there's a tile floor to suit every taste, budget, furnishings style, and palette. So if you are looking for kitchen tile, bathroom tile or any floor tile click below for an international sampler of tile flooring designs and textures.
© 2010 FloorBiz, Inc. All Rights Reserved
Asphalt Tile | Brick Tile | Carpet Tile | Cement Tile | Ceramic Tile | Clay Tile | Cork Tile | Custom Tile | Glazed Tile | Glazed Porcelain Tile | Granite Tile | Inlaid Tile | Marble Tile | Metal Tile | Mexican Tile | Mosaic Tile | Paver Tile | Porcelain-Granite Tiles | Quarry Tile | Resilient Tile | Rubber Tile | Slate Tile | Solid Vinyl Tile | Stone Tile | Swimming Pool Tile | Terra Cotta Tile | Terrazzo Tile | Unglazed Tile | Vinyl Composition Tile | Wood Tiles
Flooring | Flooring Guide | Flooring Info | Flooring Forum