inlaid vinyl tile flooring
Inlaid vinyl tile floors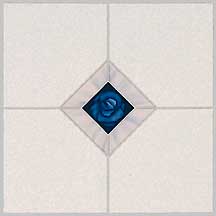 Although inlaid vinyl tile floors are more expensive than other types, this particular flooring offers long wearing beauty. Inherently thick and soft, some inlaid vinyl floors have extra layers of foam to provide added underfoot comfort and to muffle sound. Because the colors and patterns go all the way through the inlaid vinyl to the backing, they don't wear off.

Inlaid vinyl tile floors come in a large selection of designs as well as colors. Whether this is a do-it-yourself project, or you need someone to professionally install your new floor, be certain that you will have years of enjoyment due to the resiliency of your new floor. And just in case you tire of the color or design in the near future, replacing such a floor is just as easy as well as relatively inexpensive.

Manufacturers such as Armstrong, Congoleum, Mannington and Tarkett all have excellent reputations for quality and selection. Many flooring showrooms as well as discount building material stores will sell inlaid vinyl tiles. Perfect for wet areas, they will make just the right choice for your kitchen and bath areas.



© 2008 FloorBiz, Inc. All Rights Reserved

For additional information on this and other resilient products... FloorBiz is your starting point to all the important flooring sites on the internet.