terrazzo tile flooring
Terrazzo Tile Floors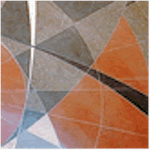 Terrazzo tile floors are made of marble or stone chips embedded in a cement binder, then highly polished for a multicolored effect. It's a very strong flooring that resists moisture, stains, and abrasion, and can only be installed over a concrete subfloor.

Terrazzo is a composite material poured in place or can be precast as well, which is used for a finished flooring. It consists of marble, quartz, granite, glass or other suitable chips, that are sprinkled or unsprinkled, and poured with a binder. Terrazzo is cured, ground and polished to a smooth surface or otherwise finished to produce a uniformly textured surface. There exists an unlimited matrix of colors due to the strict color control, resiliency, chemical resistance and tensile-compressive strengths not found in cement based systems.

Terrazzo tile flooring offers unique flexibility which makes it excellent for creating striking and original multi-colored patterns and designs such as the one pictured above. Being somewhat light weight and flexible makes it an ideal choice for multi-story use. It has the lowest maintenance cost of any hard surface due to it's non-absorbancy.

In sanitary areas, it can be installed with minimal dividers providing seamless characteristics. When used in conjunction with a flexible membrane as a specified extra, it can absorb some horizontal concrete expansion cracks or also control joint movement. It also has the quickest pour-to-grind installation time. With careful planning, it can also be used over properly installed and prepared plywood (not recommended though). Glass and other decorative aggregates can be incorporated but will result in increased costs.

Customized special effects are often created in Terrazzo by those who wish to design a specific pattern or feature. Floor maps,official seals, corporate logos and even unusual geometric shapes and free-form contours can be custom designed for either precasting or on-site application.

© 2008 FloorBiz, Inc. All Rights Reserved



For more information on this and other natural stone flooring products... FloorBiz is your starting point to all the important terrazzo tile flooring sites on the internet.