quarry tile flooring
Quarry Tile Floors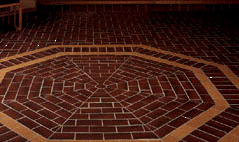 Quarry tile is made of natural clay, and in many cases, the color of the clay determines the color. For years, the floors in commercial kitchens, bathrooms, and other facilities, have been covered with quarry tile. Quarry tile is durable and relatively inexpensive. Some are multicolored and contain marble like swirls or patterns resembling wood grain.

Although primarily used extensively in commercial applications, quarry tile is gaining popularity in the home both inside and out. The color tones are 'earthy' and lend a more contemporary look to floors. They even come 'flashed', meaning that within each box there will be varied shades which when installed will create a beautiful country or even rustic decor.



Because quarry tile is made much like brick, it is sometimes referred to as "burnt clay." The most common size quarry tile is 6 x 6 inches, although there are other sizes and shapes. Quarry tiles are available in a range of shapes, including the basic square, the rectangle (brick), and the hexagon. These tiles are frost-proof, and are a good choice for outdoor projects.

© 2008 FloorBiz, Inc. All Rights Reserved



For more information on this and other natural stone flooring products ... FloorBiz is your starting point to all the important quarry tile flooring sites on the internet.