Article Number: 12681

Capel's Eye-Catching Tasanee Leads Innovative Market Intros
Troy, N.C. — Capel Rugs is introducing a variety of innovative rug designs at the winter markets in Atlanta and Las Vegas.

Among the featured introductions is Tasanee, a new contemporary collection with an abstract, painterly feeling. Hand knotted in India, Tasanee is a wool construction with a touch of viscose for added depth and sheen. Three colorways are available, including ocean, morning dove and amber multi. A 5' x 8' model may retail for $1,949.

"This new design is absolutely gorgeous," said Cameron Capel, president -- sales and marketing for Capel Rugs. "The subtle, on-trend colors mix and match to create a series of eye-catching designs with a dream-like quality. It's a very high-end look that at a much more affordable price than is typical."

Another new collection in the spotlight at the winter shows is Charlemont. A hand-tufted design made in India, Charlemont features a blend of 75% wool and 25% viscose for a rich shine and enhanced texture. Five colorways are available -- sage, charcoal, medium blue, navy and taupe. Offered in 5' x 8', 8' x 10', 9' x 12' and 10' x 14' sizes, a 5'x 8' may retail for $599.

At the winter markets, Capel Rugs also will add new colorations to several of its biggest hits from the October High Point Market. The new colors will include fresh variations of gray and blue, "which the market can't get enough of right now," Capel says. Line extensions include:

Makrana
A timeless traditional look with a twist, Capel Rugs' elegant Makrana collection is being expanded with two new colorways -- alabaster and mink (pictured). Hand knotted in India of a wool and viscose blend with light distressing, this collection comes in 3'6" x 5'6", 5'6" x 8'6", 8' x 10' and 9' x 12' sizes. A 5'6" x 8'6" rug may retail for $1,799.

Avanti
An innovative transitional collection of four distinct designs with primitive and tribal influences, Avanti conveys a distinct geometric flair with its creative use of zigzags, diamonds and other angular and organic shapes. This market, the Kelim pattern is being expanded with two new colors-- silver birch and alpine blue (pictured). Hand tufted in India of 100% wool with a loop pile texture, each Avanti rug features a blend of bold, on-trend "multi" colors. Sizes include 3'6" x 5'6", 5' x 8', 8' x 10' and 9' x 12'. A 5' x 8' rug may retail for under $299.

Synergy
A braided cotton chenille collection designed for younger consumers, Synergy is being expanded with two new colorways -- misty sage and rosewood (pictured). A wide range of shapes and sizes are available, including oval and concentric rugs. A 5' x 8' oval may retail for $649.

Cotswold
A reimagining of the timeless plaid, Cotswold is woven with our vintage shuttle looms in the USA, in a subtle basket weave. The collection is constructed of a wool blend for durability and years of enjoyment in blue stone (pictured) and nightshadow. Sizes include 24" x 48", 3' x 5', 5' x 8', 7' x 9', 8' x 11' and 24' x 8' runner. A 5' x 8' rug may retail for $699.

"We feel really good about the reaction to our October market introductions, so at this round of the winter markets we're building on that momentum," said Capel. "As we head into 2019, we're concentrating on better-quality goods that represent a very strong value and offer attractive margin opportunities for our retailers. The economy remains a bit uncertain because of the tariff situation, but we're in a good position on that issue since we don't source much from China."

To create an additional touch of excitement around its latest introductions, Capel Rugs will offer a "draw for your discount" promotion during the two regional markets. With a $1,000 minimum order, customers will have a chance to randomly draw for a discount of 10% to 50% off their purchases.

Each day during market, Capel Rugs also will serve fresh-roasted Starbucks coffee to its showroom visitors. In the late afternoon, the company will hold a cocktail hour for attendees.

At the Atlanta International Area Rug Market being held January 9 to 13, Capel Rugs will exhibit in AmericasMart Building 1, Space 3-D-1. At the Las Vegas Market taking place January 27 to 31, Capel Rugs will show in World Market Center Space A-133.

About Capel Rugs
Based in Troy, N.C., Capel, Inc. offers more rugs in more categories than any other area rug company, including original braided rugs and woven rugs made in North Carolina for 100 years, the finest hand knotted rugs, best selling hand tufted rugs, innovative outdoor rugs and kids rugs. To see more from Capel Rugs' program, visit CapelRugs.com.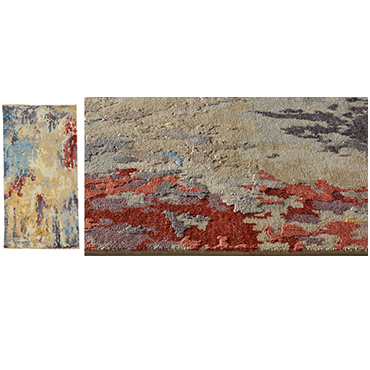 Tasanee in Amber Multi
---
---
Related News
Sunday, February 23, 2020