Article Number: 10423

Turkish Tile Trends at Coverings 2018
Turkishceramics will be showcasing its newest products during Coverings 2018 in Atlanta, May 8-11 at the Georgia World Congress Center. These will include tile products beautifully emulating stone, wood and other natural elements from many manufacturers.

Turkey has a long tradition of producing ceramic tile materials… dating back roughly 8,000 years. In 2017, Turkey ranked third in ceramics tile production throughout all of Europe and ninth in all the world. Last year, Turkey exported $552 million US of ceramic tiles and $231 million of ceramic sanitary ware. Germany was the number one importer of Turkish ceramic products; the USA ranked second in ceramic tile and fifth sanitaryware. Today, Turkey is an accepted world leader in the global ceramics industry today due to its abundance of natural resources, high quality ceramic products, innovative design… and, fair business practices. The following companies will be exhibiting at Coverings:

Bien Seramik Booth #8717 will be introducing its large-sized products and special collections prepared specifically for the US market at Coverings 2018. These materials include 6" x 36", 32" x 32", 24" X 48", (15 x 90cm, 80 x 80cm and 60 x 120 cm) sized floor tiles… and, wall tiles offered in a 16" x 46" (40 x 120cm) sized format.

Ege Seramik Booth #8621 will be featuring "Antwerp," a sophisticated, glazed porcelain collection characterized by an exquisite matte finish. Available in four earth tones (beige, brown, grey and anthracite) and two sizes (12" x 24" and 24" x 24"), the product has been designed to appear as a mixture of concrete and natural stone. "Suitable for both residential and medium traffic commercial applications, the demand for glazed porcelain tile products in larger formats continues to be in demand worldwide," stated Semih Susleyen, Sales Manager of Ege Seramik America. "Products emulate the look and texture of wood, concrete and stone flooring. Most everyone who sees these products cannot believe they aren't made of natural stone, wood or poured concrete!"

Seranova Ceramics Booth #5352 has introduced its FLORIDA COLLECTION; the firm's newest series is characterized by the phrase, "where the earth meets with designs." Tile produced has very sharp, modern lines and additionally, has been designed to have a distinctive, natural wood look. Sizes offered are 8" x 48" (20 x 120 cm) with alternative finishes, Beige, Blue, Grey & White.

Termal Seramik Booth # 5161 In 2017 Termal Seramik debuted "Porcelain Parquet" wall tiles in sizes 6" x 24" , 6 x 36", 8 x 48" (15 x 60, 15 x 90, 20 x 120cm) and porcelain floor tiles sized 24" x 24" (60 x 60cm) with beautiful new natural stone looks . The firm has made major investments, enlarging its capacity in 2018, expanding its production with new product sizes, such as 24" x 48" and 18" x 36" (60 x 120, 45 x 90cm) using Lappato production technology.

Yurtbay Seramiks Booth #5330 With an accomplished branding culture, Yurtbay Seramiks always introduces a new series when participating at Coverings. Considering that the American marketplace is the firm's second largest export partner, Yurtbay brings to Coverings 2018 strategically developed new product lines including De Lorem, Larix, Core, Betokent, Mat & Bright Series, Nuvola, Pine, Style and Columbus. These new materials all reflect an inspiration from nature, and are offered in a myriad of sizes. Show attendees will see delightful products ranging from attractive wood and concrete "looks" to durable countertop materials. Yurtbay takes its direction from its love of design, keeping in mind modern trends specified by the professional and selected by the consumer.

Usak Seramik – Booth #5338
Usak's Black Marble and Muğla White

Additional Turkish Manufacturers exhibiting at Coverings 2018:

Akgun (Duratiles) – Booth #1011
www.duratiles.com.tr

Vitra – Booth #B140
www.vitra.com.tr


About Turkishceramics - Booth #5346
Turkishceramics is a group for ceramic manufacturers and exporters in Turkey. Representing over 30 individual companies, the group's mission is to raise awareness of Turkish ceramics abroad and communicate the quality of Turkish ceramic sanitary ware and tiles. Ceramic production in Turkey has a long history and rich tradition, with the first ceramics being created in Anatolia over 8,000 years ago. Turkish ceramic producers are proud to continue this tradition of innovation today with a creative approach and a broad range of products for both the professional and consumer markets.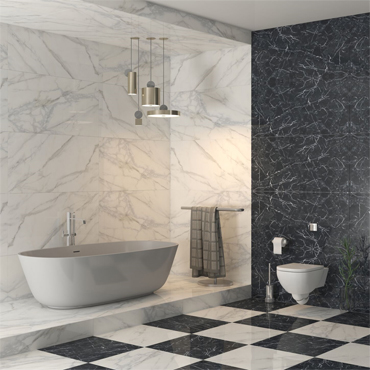 Usak's Black Marble and Mugla White
---
---
Related News
Monday, August 8, 2022
Web Design
Monday, August 8, 2022