Article Number: 10207

Imagine Tile Inc. Appoints Lynda Portelli Vice President of Sales & Marketing + "New" Art of Board Tiles
November 3, 2017, NEW YORK, NY – Imagine Tile, Inc., the industry leader pioneering the use of high resolution imagery on commercially rated ceramic and porcelain tile, announced today that Lynda Portelli has rejoined the company as Vice President of Sales & Marketing. In this newly created position, Portelli will oversee all sales, marketing and administration for the Imagine Tile brand. Portelli is a business veteran who brings over 15 years of experience in sales, marketing, public relations, and business administration.

"We are excited to welcome back such a seasoned industry professional. In the last eight years she has gained even more experience in our industry and will be a great asset to growing the Imagine Tile brand," said Imagine Tile President, Christian McAuley.

Prior to rejoining Imagine Tile, Portelli previously managed the company's marketing, public relations and sales training program from 2006 to 2009. After that she served 4 years as the Marketing Manager for Dauphin, a manufacturer of ergonomic seating and 4 years as the Director of Marketing at Galaxy Glass & Stone, a New Jersey based manufacturer of Architectural Decorative Glass.

Portelli holds a B.S in Marketing and an A.S in Fashion Buying and Merchandising from the Fashion Institute of Technology in New York, NY.

In other news, Imagine Tile expands their Art of Board Series by adding sixteen (16) "New" 12-inch by 12-inch and twelve (12) "New" 8-inch by 8-inch tiles. The original collection consists of twenty-four (24) 3-inch x 6-inch and (12) 12-inch x 24-inch photo-realistic ceramic tiles with vibrant patterns/textures and alternating pops of playful color from reclaimed skateboard decks. All ceramic wall tile comes with a standard finish made with pre-consumer recycled materials and are commercially rated for high traffic areas. In addition, they contain no VOCs, are resistant to strong chemicals, and are unaffected by UV lighting. These tiles are suitable for both interior and exterior use.

"We are excited to grow the partnership between Art of Board and Imagine Tile by expanding our existing offers to now include larger scale tiles and more design options. This unique collection continues to take the art of skateboard beyond the streets and is the perfect playful design pick for adding a punch of color to Corporate, Retail, Hospitality, Healthcare and more," said Lynda Portelli, Vice President of Sales & Marketing.

About Imagine Tile
A leader in the custom tile industry, Imagine Tile has spent the last decade creating and producing commercially rated ceramic tiles for use in hospitality, commercial, retail, and residential markets. Using patented glazing technologies, Imagine Tile works directly with architects, designers and homeowners to reproduce textures, patterns, photos, illustrations and even three-dimensional images into tiles that are commercially rated for high traffic indoor and outdoor use. Let your imagination run tiled!




Related News
Thursday, May 23, 2019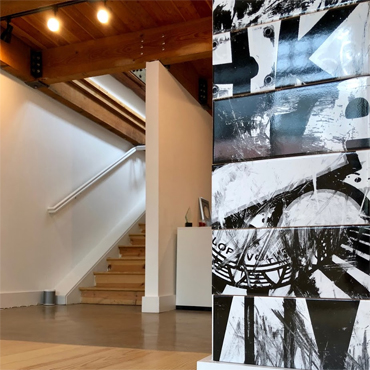 May 30, 2018, MONTCLAIR, NEW JERSEY – Imagine Tile, Inc., the industry leader pioneering the use of high resolution imagery on commercially rated ceramic and porcelain tile, announced today that they have added...read more