Article Number: 10173

New Isla Tile Proposals on Display at Cersaie
Rubiera, 5 October 2017 – Isla Tile arrives at Cersaie 2017 with a display full of original and refined suggestions developed to meet the needs of modern architecture.

Starting from GEMS, the result of an original parallelism conceived by ISLA between the world of precious gems and the world of wood essences. Inspired by rustic wood, GEMS aesthetics are characterised by their intriguing colour variations, the unpredictable veining and the charming worn effects that belong even to the hard stones.

Moving on then with CHARM, a collection of surfaces steeped with charm and inspired by the warmth of reclaimed wood to create environments with a suggestive and emotional design. CHARM proposes wood with a worn look, marked by use, the surface of which seems to be treated with a layer of varnish for a rustic style, distinguished by a vintage elegance.

And last, but not least, VULKAN, the innovative project that recreates the mysterious, primordial and hypnotic charm of volcanoes in porcelain stoneware. The wealth of reflections and shading typical of some of the best-known volcanic glass transforms VULKAN into an original furnishing option. The three-dimensional effects of the surface and the irregular edges make the collection ideal for both interior design and for reclaiming buildings in historic settings.

The Isla Tile exhibition space at Cersaie, Pav. 16 stand C5, is enhanced by the bathroom proposals kindly supplied by the Mastella Design company.



Related News
Monday, August 20, 2018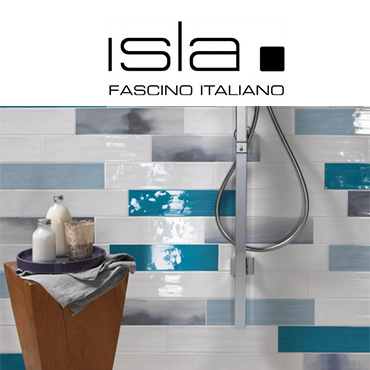 Rubiera, 5 July 2017 – Tales told by many voices, etched in stone. The new STONE PIT and EDENROCK collections by Isla Tiles, in porcelain stoneware, interpret nature through its most solid and permanent expression – stone – turning it into an element of...read more