Walla Walla Environmental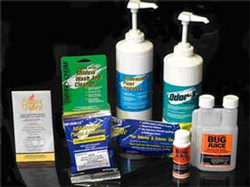 Call
Fax: 509.522.0351
Toll Free: 800.247.9011
Write
Walla Walla Environmental
4 West Rees Avenue
Walla Walla, WA 99362
United States of America
Walla Walla Environmental (W2E) was founded by Roger Corn in 1980 when he developed and registered the very first exterior use insecticide paint additive, CPF. Corn's vision was to invent innovative and helpful products for the home improvement market. As Corn's knowledge and presence in the industries grew, so did the product line. Today, Corn has 14 U.S. E.P.A. registrations to his name! The last registrations, #13 and #14, are for Bug Juice Insecticide Paint Additive and Bug Juice Insecticide Coating - the first-ever "interior and exterior" insecticide paint additive and insecticide coating registered by the United States EPA.

Today, W2E is known as "The Additive Company" in the home improvement industry. Their paint-related products can be found at national locations such as Sherwin Williams and Home Depot, along with regional paint companies throughout the United States.

Although the Company's initial focus was the home improvement market, W2E began searching for a compatible expansion market that would capitalize on its expertise of mold, bacteria, and fungus, and off-set the seasonal aspects of the painting season.

In 1991, the Company introduced a new line of products to the corrugated industry. W2E is now the nations leading expert in the corrugated industry for Zero Discharge technology.

Products: Walla Walla Environmental
---
Brands: Walla Walla Environmental
---
Walla Walla Environmental
Website
Over the past 20 years, Walla Walla Environmental has been on the cutting edge of new product development for the home improvement, corrugated, municipalities, and agricultural industries.
Web Design
Wednesday, August 17, 2022