Daimer Industries Inc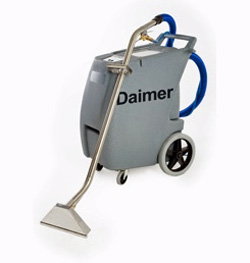 Call
Tel: 617 719 0564
Toll Free: 617 719 0564
Write
Daimer Industries Inc
16 Tower Office Park
Woburn, MA 01801
United States of America
Daimer is a manufacturer, importer, and worldwide exporter of the industry's leading line of KleenJet ® steam cleaners, XTreme Power ® carpet cleaners and hard surface cleaning machines, Super Max ® and Vapor-Flo ® pressure washers, and our exciting Micro-Blasting ® Eco-Green ® ecologically-friendly green chemicals using unmatched technologies and patented, proprietary chemistry. In fact, Eco-Green ® is the safest, most effective lines of green chemicals in the industry using sophisticated formulations only Daimer can offer. We are proud to present the largest, most extensive, and technologically unique/superior line of cleaning machines and solutions in the world ... GUARANTEED!

Our products are popular for home, commercial, and industrial cleaning applications within virtually all markets worldwide. We have one primary goal in mind, namely, to represent and offer the most innovative, technologically-advanced, and well-crafted cleaning equipment and green chemicals designed to truly clean more effectively and thoroughly than conventional cleaning methods. In addition, we aim to improve the health and well-being of everyone, including workers, adults, children, and pets. Our exceptional line includes cleaning products targeted towards those interested in all-natural and environmentally safe steam cleaning, pressure washing, hard surface cleaning, carpet cleaning, and chemical solutions.

Since 1974: Importantly, our factories are some of the oldest, most experienced, and largest producers in the industry of vapor steam cleaners, carpet cleaners/rug cleaning equipment, pressure washers, industrial cleaning equipment, floor cleaning equipment, and other cleaning equipment ... shipping thousands of units per month worldwide!

In addition, our KleenJet ® vapor steam cleaner warranty is the most exceptional in the industry with a lifetime boiler warranty, 3 years on the system (parts), and 1 year on the system (parts & labor) .

Whether you are at home, work within a business setting, or even within a factory, at least of one our KleenJet ® steam cleaners, Vapor-Flo ® vapor cleaners, Super Max ® pressure washers, and XTreme Power ® carpet cleaners can assist you! Daimer's products can help destroy dust mites, most bacteria, viruses, mold, fungi, and many more that can cause and trigger allergies, asthma, sinusitis, rhinitis, lice, "sick building" syndrome, and other conditions.

The systems even help prevent the physical and psychological effects of dangerous chemicals or biological agents present within traditional cleaning products used practically everywhere. Harmful commercial chemicals are known to cause multiple chemical sensitivity syndrome (MCD), other serious respiratory problems, cancer, and more.

No other products worldwide can match the power, durability, performance, unique technological features, variety, and reliability of the our product line. You can be assured of the same high-quality workmanship many throughout the world are experiencing and enjoying each and every day.

We encourage you to try our steam cleaners, carpet cleaners, pressure washers and other cleaning equipment first-hand and experience first-hand the cleaning power Daimer can offer you today!

Products: Daimer Industries Inc
---
Brands: Daimer Industries Inc
Web Design
Thursday, October 29, 2020