Action Floor Systems, LLC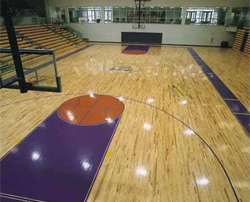 Call
Tel: 715-476-3512
Fax: 715-476-3585
Toll Free: 800-746-3512
Write
Action Floor Systems, LLC
4781 North US Highway 51
Mercer, WI 54547
United States of America
From our Mercer, Wisconsin headquarters, Action provides wide-ranging sports floor options for an equally broad customer base. Worldwide, our premium, solid hard maple floors are preferred for unequaled beauty, performance and durability. Our maple, grown exclusively in America's north woods, is the finest-grained, best grade available. Beneath the wood, a comprehensive selection of subfloor systems offers the perfect choice for any application or budget.

Action is the exclusive American supplier of the finest European synthetic polyurethane athletic surface — Herculan®. Totally solvent-free and featuring the industry's first water-based top coat, Herculan is a durable, cost-effective solution for many applications.

Rounding out the Action product offering, is our ReFlexTM recycled rubber flooring. Available in rolls and interlocking pieces, ReFlex is perfect for high-abuse, high-traffic areas such as locker rooms, weight rooms, fitness centers and more.

Our quality focus doesn't stop with our products. We work closely with our installing dealers and craftsmen to ensure a defect-free installation, and the Action customer support team is famous for providing timely help and answers.
Products: Action Floor Systems, LLC
---
Brands: Action Floor Systems, LLC
---
Action Floor Systems®
Website
Action Floor surface maple comes from trees grown exclusively in northern Wisconsin and Upper Michigan, the best grade available. And the most desired, due to its unsurpassed beauty. The long, often bitterly cold northern winters and brief burst of glorious summer somehow provide the perfect climate for these trees. And the perfect wood for your gym.
Web Design
Wednesday, August 10, 2022