Decor Grates Incorporated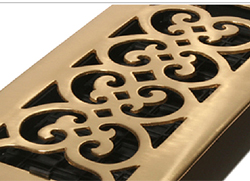 Call
Tel: 647-777-3544
Fax: 647-777-3545
Toll Free: 800-903-9036
Write
Decor Grates Incorporated
695 Flint Road
North York, ON M3J 2T7
Canada
DECOR GRATES INCORPORATED manufactures import and distributes decorative floor vents and wall heat registers as well as a range of return air grills for the home decor market. The products are made from a variety of materials;

Solid brass and aluminum in a range of finishes and surface designs

Painted and plated steel

Natural hard woods using Oak, Maple, Birch, Beech and Cherry in various finishes and surface designs

Plastic registers, available in eight different colors
The company operates an 80,000 square foot facility located in North Toronto, ON, Canada and is privately owned and operated by Oosterhuis family.
Tiki and Ralph started the company in 1990 on the basis that consumers were looking for decorative ideas for their homes and floor registers filled that requirement. By offering different designs to compliment their home Decor the consumer can choose from art deco to craftsmen, oriental to traditional or a Victorian scroll to gothic. To further enhance their look the home owner has a variety of finishes to choose from: oil rubbed bronze, brushed nickel, cast iron look, satin and bright brass and brushed aluminum; hardwoods can be match with drop ins or flushmounts and plastics offer an inexpensive alternative in eight different colours that include two wood grain looks.

Decor Grates is constantly evaluating its retail packaging so that it serves the ever changing North American market - colorful, eye-catching, informative and in English, French and Spanish. To assist in making its customers successful Decor Grates developed an extensive database on the geographical distribution of sizes required across North America and the Decorating habits of the homeowner.

In 1999, Decor Grates expanded into plastic register products, which have become a standard in the new construction industry in many provinces in Canada. Today, Decor Grates current activities include manufacturing and importing a wide variety of quality floor registers, in an extensive range of sizes, decorative designs, colours and finishes. The company is well on its way to achieve its goal of becoming an innovative, entrepreneurial "One –Stop Shop" Decorative Register Company!
Products: Decor Grates Incorporated
---
Brands: Decor Grates Incorporated
---
Decor Grates®
Website
We at Decor Grates choose to manufacture products of the highest standard. Maintaining the integrity of our products is of the utmost importance. We will not compromise our commitment to quality! These high standards have kept us in good stead with our valued customers, and are the foundation upon which we have built our business.
Web Design
Tuesday, December 6, 2022