Berry Alloc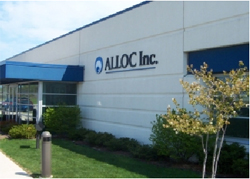 Call
Tel: 262-554-1541
Fax: 262-554-1701
Write
Berry Alloc
3441 South Memorial Drive
Racine, WI 53403
United States of America
Alloc, the world leader in laminate flooring with patented mechanical locking system, is a member of the Berry Group. The Berry Group is a world leader in the manufacturing and marketing of floor covering.
&nbsp,
&nbsp,We are focused, innovative and dedicated to mechanical locking systems.
&nbsp,
&nbsp,We implement total quality management in purchasing, manufacturing, distribution and customer service.
&nbsp,
&nbsp,We are located in Racine, Wisconsin, just south of Milwaukee.
Brands: Berry Alloc
---
BerryAlloc Laminate Flooring
Website
The benefits of Alloc Laminate Flooring appear in the form of a long lasting beautiful floor that is easy to clean and maintain with total product durability.
Web Design
Wednesday, July 6, 2022