Stanton Carpet Corp.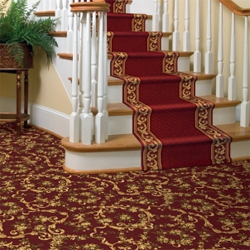 Call
Tel: 706-624-9385
Fax: 516-933-8890
Write
Stanton Carpet Corp.
211 Robbins Lane
Syosset, NY 11791
United States of America
Welcome to Stanton Carpet Corp.
We are located in Syosset, NY United States of America. Stanton's three quality carpet divisions represent all key facets of the soft flooring arena: Stanton Carpet, Royal Dutch Carpets and Antrim Carpets USA, LTD.
A perfect place to begin is with our selection of
brands
. We carry Area Rugs, Carpeting, LVT/LVP, Mats/Runners, Waterproof Flooring, and more...
Want to learn more about Stanton Carpet Corp.? Click here to view the many
products
that we offer.
FULL REVIEW:
Stanton Carpet Corp. Syosset, NY
Tel:
706-624-9385
Fax:
516-933-8890
Email:
info@stantoncarpet.com
Products: Stanton Carpet Corp.
---
Brands: Stanton Carpet Corp.
---
Antrim Area Rugs
Website
|
Where to Buy
Antrim (a Stanton Carpet Corporation owned company) is the leading importer and wholesaler of hand-loomed broadloom carpet and custom area rugs.
---
Antrim Carpet
Website
|
Where to Buy
Antrim Carpet is the leading importer of hand-loomed goods made from the finest materials available. Antrim continues to showcase the talented handcrafted work from artisans bringing tradition of centuries old, time honored skill and care to every rug and carpet produced.
---
Crescent Carpet
Website
Crescent Carpet is known trend-forward designs in luxurious colors and materials, particularly wool and wool blends. The style is globally influenced by generations of expert artisans based all around the world. With an emphasis on art and the highest quality, Crescent Carpet is available in select showrooms nationwide.
---
Crescent Rugs
Website
Crescent offers a selection of stocked and custom fabricated rugs and carpets that are among the most unique in the floor covering industry.
---
Rosecore Area Rugs
Website
Rosecore Area Rugs has been the premier supplier of fine broadloom and hand-loomed floorcovering products for over 30 years. Rosecore Carpet strives to provide you with the best customer service and quality rugs.
---
Rosecore™ Carpet
Website
With a rich history of artisan craftsmanship and innovative design, Rosecore's exquisite floorcoverings enhance exclusive interiors around the world. Roscore produces a number of prominent Collections including Supreme Bliss from the Supreme Collection, which energizes any room with its elegant patina and palette of soft neutrals.
---
Royal Dutch Carpet
Website
Royal Dutch Carpets, acquired by Stanton Carpet Corporation in 1995, dominates the broadloom category with decorative patterns and tufted products at mid-tier pricing
---
Royal Dutch Rugs
Website
From wool to sisal or seagrass Royal Dutch Rugs sets the tone for exquisite area rugs. Whatever your taste, you will find it in the Royal Dutch rug line by Stanton.
---
Stanton Commercial Carpet
|
Clean
EST. 1980 by Sy Cohen, Stanton Carpet Corporation was built on the mission to create a brand that was synonymous with style and value for the decorative market
---
Stanton Rugs
Website
|
Clean
Stanton Rug's predominantly wool product line features high quality, designer-driven patterns and styles. Stanton produces a number of decorative, high-quality, specialty collections of needlepoint Wiltons and decorative patterns in nylons spanning from residential to medium commercial applications.
---
Stanton Waterproof Flooring
Website
Stanton Decorative Waterproof Flooring epitomizes the essence of luxurious style with the highest level of performance attributes. It is 100 percent waterproof, pet and child friendly, low maintenance, easy to install and dent and scratch resistant.
Web Design
Monday, May 23, 2022