Leggett & Platt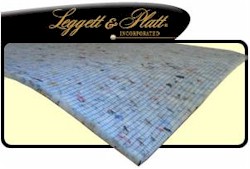 Write
Leggett & Platt
No 1 Leggett Road
Carthage, MO 64836
United States of America
Online
Leggett & Platt is a diversified manufacturer that conceives, designs and produces a broad variety of engineered components and products for customers worldwide. While Leggett & Platt may not be a familiar name to you, chances are you sleep on a bed made with Leggett components - box spring, innerspring, fiber comfort layers; relax in a recliner that has an L&P motion mechanism powering it; shop in stores that have products displayed on shelving made by L&P; barbeque on a grill that's made up of Leggett cast aluminum - in short, Leggett products are all around you, making the products you use every day more comfortable, durable and life-enhancing.
Products: Leggett & Platt
---
Brands: Leggett & Platt
---
Fashion Bed Group
Website
Fashion Bed Group is the largest, and most innovative, supplier of fashion beds, daybeds, futons, bunk beds, bed frames, and bedding support products in North America today.  Its beds are manufactured of genuine brass, plated brass, cast zinc, cast aluminum, steel, iron, wood, wicker and rattan.
---
Leggett & Platt Cushion
Website
We have the right cushion for every type of carpet, installation and customer. The proper Leggett & Platt cushion will always make carpet feel better underfoot, reduce fatigue, wear longer and retain its original beauty.