Best Displays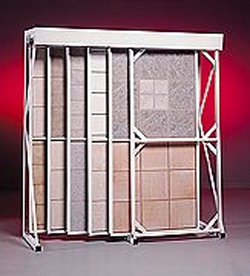 Call
Tel: 309-932-2124
Fax: 309-932-2127
Toll Free: 800-344-2378
Write
Best Displays
One Burlington Road
PO Box 293
Galva, IL 61434
United States of America
John H. Best founded a new company to serve the needs of an important industry. His Products: display racks for buggy whips and carriage rugs. His Philosophy: "Goods well displayed are half sold." The usefulness and inventiveness of his products and his reputation for fairness and top quality combined to help his business grow and prosper.

TODAY:
John H. Best Display Systems is now owned and operated by Ron and Teri Pankau. Under their supervision, we are continuing to grow as the only full-line supplier of carpet and rug displays in the industry, with a wide range of products, including carpet roll display systems, area rug displays, carpet, tile and hardwood sample display systems, and a full selection of display needs for large and small outlets alike.

At Best, we're constantly putting our years of experience to work to address your changing needs. As a result, we now offer a full line of displays that are designed to fit your requirements as dictated by product line and showroom design.
Brands: Best Displays
---
Best Displays
Website
We've grown to become the only full-line supplier of carpet displays and area rug displays in the industry.
Web Design
Thursday, October 29, 2020