L. M. Scofield Company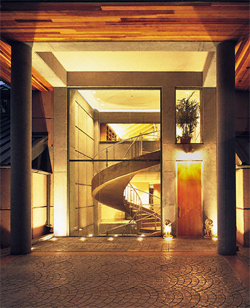 Call
Tel: 323-720-8810
Fax: 323-722-7826
Toll Free: 800-800-9900
Write
L. M. Scofield Company
6533 Bandini Boulevard
Los Angeles , CA 90040
United States of America
Online
The name L.M. Scofield Company represents the oldest, and one of the most trusted manufacturers in the business of Decorative Concrete Manufacturing. This recognition comes from more than 90 years in the industry, creating high standards for products that form a virtually unlimited menu for coloring and texturing concrete.

The company can trace its roots back to 1915, when a young engineer, Lynn Mason Scofield, developed proprietary systems for making concrete not only beautiful, but more durable as well. His early successes helped to change the way the building industry viewed using concrete. The 1920s and '30s proved to be an inspiring time period. Scofield's premier line of LITHOCHROME® products became recognized among architects and designers, including such well-known names as LITHOCHROME® Color Hardener, LITHOCHROME® Chemstain™ Classic and LITHOCHROME® Colorwax™.

With an eye on growth opportunities, the family moved the business from the first offices in Chicago to Los Angeles. During this era, trend-setting California architects favored grand Art Nouveau, Art Deco, early Modern and Spanish-influenced styles that proved ideal for Scofield products, particularly LITHOCHROME Chemstain. The chemically reactive, penetrating stain was used to add variegated color to new or old concrete to produce an antiqued timeworn patina, stone-like features or one-of-a-kind faux finishes. Some of the most glamorous Hollywood homes, owned by luminaries including Charlie Chaplin, Bing Crosby and Fred Astaire, were known to use innovative Scofield products. As more and more designers and architects discovered the colorful, aesthetic appeal of architectural concrete improved with Scofield Systems, they became aware of pragmatic construction advantages from adding both color and structural strength with CHROMIX® Admixtures for Color-Conditioned® Concrete. They also found that concrete is much more cost-effective than using granite, marble, or other materials and also offered the flexibility to meet very specific performance criteria required in structural work. In the 1940s, the company contributed to the war effort by providing large volumes of materials needed for military construction in San Francisco and Hawaii. Government contractors found that using Scofield architectural concrete systems allowed fast track construction and helped keep buildings on schedule and budget. Under the leadership of Lynn's son, George Scofield, the company continued to grow during this challenging time. With his background in chemistry, the new company president accelerated product improvements and innovations. Following World War II, the building boom provided more venues for using decorative concrete in everything from housing, parks and schools to commercial properties such as department stores, banks, luxury hotels and lodges. Interest in colorful, architectural concrete created with Scofield Systems gained wide popularity throughout the post-war years.

New Leadership Brings Continued Success to Industry Leader
A milestone for the company came in the 1960s when control passed from the Scofield family to David R. Arnold, a gifted engineer who brought with him twenty years of prior experience in design and construction management. Under his guidance the "engineered" systems evolved. Mr. Arnold expanded the color range and product offerings, developed comprehensive technical documentation, and contributed to the development of industry testing standards. With the aim of delivering reliable results and eliminating guesswork and problems that can arise when untested coatings or finishes are introduced, Scofield developed compatible systems with stringent quality controls.

The 1960s, '70s and '80s saw the rapid adoption of colorful concrete and fueled company expansion in both domestic and international markets. Architects specified the top-of-the line products and contractors turned to Scofield for technical support and training in using colored concrete in new ways, like imprinting.

Today, at the Scofield Institute, located near Atlanta, Georgia, concrete contractors can gain both knowledge of sound construction practices and skills in decorative work like staining, imprinting, template sand-blasting and diverse coloring techniques for interior and exterior uses. The training center offers a selection of specialized hands-on workshops. For instance, the interior workshop teaches successful installation of the unique, self-leveling SCOFIELD® Overlay™, the durable interior flooring system used for new construction or refurbishment. Developed for use in high traffic pedestrian areas, the product is in demand for well-known retail, restaurant, and entertainment establishments and attractions.

High Product Standards and Ability to Meet Unique Specs Keeps Scofield on Top

Phillip J. Arnold, the current Chairman and CEO of L. M. Scofield Company carries forward the family traditions the company has been built upon. "We are proud to be a manufacturer in this industry," says Phil Arnold. "We are able to control quality and make concrete better, more durable and beautiful. So it looks great today and improves with age." One way the company makes concrete better long term is CHROMIX® Admixtures. The product makes concrete that is structurally superior by reducing the water requirement and improving workability. Efflorescence, laitance, and color bleeding are reduced and freeze/thaw resistance is improved. The finished concrete maintains its good looks since the color-conditioning admixtures produce a permanent, streak-free, and uniform appearance and can withstand extremes of weather and even heavy vehicular use - long term.

"Coming up with solutions that meet tough specifications is just part of the day-to-day business of L. M. Scofield Company," says Phil Arnold. "We are continually improving and developing new products that increase opportunities for the industry by expanding design options and improving performance. The creative possibilities are so diverse that often these surfaces look like anything but concrete."

Anyone who has been to a Walt Disney property or other similar attractions will be familiar with the use of concrete to create remarkable, life-like environments that endure high volume use. For example, in Animal Kingdom and the new Animal Kingdom Hotel in Orlando, naturalistic environments have been created which the lead designer dubbed "designer dirt." With the dilemma of creating walkways suited to heavy foot traffic without spoiling the illusion of the Serengeti Desert re-creation, they turned to Scofield. With actual dirt samples from the desert, Scofield developed special colors for their client. To add to the authentic look of the walkways, contractors imprinted the concrete with animal paw prints and tire tracks from all-terrain vehicles.

Today the use of custom colors and innovative decorative techniques is not limited to famous attractions or the homes of rock stars and wealthy business moguls. The popularity of Scofield Systems is seen in town centers, arenas, shopping centers, schools, medical facilities and even small-scale residential improvements. Opportunities for concrete contractors are expanding because of the environmental and cost benefits and because concrete can be a remarkably creative medium in the hands of skilled contractors. "We are truly inspired by the contractors we work with and what they do with our systems. We are their biggest fans," says Arnold. "As it has since 1915, Scofield provides reliable systems, technical know-how and the extensive color palette that designers and concrete contractors use to create beautiful works of art."
Products: L. M. Scofield Company
---
Brands: L. M. Scofield Company
---
Scofield® Decorative Concrete
Website
A full range of Decorative Concrete Systems including Concrete Stain, Stamped Concrete, Concrete Resurfacing materials, Colored Concrete, Concrete Dye and Concrete Sealers and Hardeners from L. M. Scofield Company - the Leader Since 1915.
Web Design
Thursday, January 20, 2022