Cerdomus Ceramiche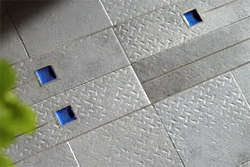 Write
Cerdomus Ceramiche
Via Emilia Ponente n.1000
48014 CastelBolognese (RA),
Italy
We have been investing in technological research and aesthetic innovation since 1969 in our endeavours to create high-quality products.
That's over 30 years of constant investment in capacity and imagination, with unceasing attention to product differentiation.
Today, our products are renowned all over the world for their beauty and quality.

Cerdomus Ceramiche S.p.A. was founded in the late 1960s and since then has grown steadily in pace with investment in new technology and product diversification.

Thirty years of experience have made Cerdomus Ceramiche S.p.A. known all over the world for the quality of its products, which are renowned everywhere for their high quality. With constant investment in the latest production technology we manufacture to the most modern standards of technical quality and output.

Cerdomus Ceramiche S.p.A. is now a leading ceramics manufacturer with a modern, well-equipped factory in the Romagna region, not far from the Modena ceramics belt but distant enough to preserve its own character in the design and production of its own materials.

Behind every product made by Cerdomus Ceramiche S.p.A. is an intensive programme of research by a specialist team whose job is to ensure an ever-evolving range of products which are subjected to constant control and improvement to ensure the excellence of our brand.

We are a dynamic and imaginative company which in 1979 changed from the manufacture of double-fired enamelled tiles to rapid single firing in white paste. This was one of the most significant innovations in Italian ceramics of the period and is now a standard process in all ceramics manufacturers.

Cerdomus Ceramiche S.p.A. has steadily extended its output over the years, opening an ultra-modern rapid double-firing production facility which even today is the best of its kind. We began making porcelain stoneware in 1996 in a brand-new factory designed to the latest standards to ensure a product which is superior both technically and aesthetically.

Cerdomus Ceramiche S.p.A. is particularly proud of its special components plant, whose production completes every Cerdomus collection, and of its Astorre artistic ceramic division, which operates according to traditional processes thanks to experienced master ceramists working to create new styles and decorative effects.
It's here that the art of colour and the feeling for form give shape to the unmistakable ambience of every Cerdomus collection.