Article Number: 10502

Belknap White Group Introduces New Atlas Concorde Lines
Mansfield, Massachusetts. The Belknap White Group (BWG), one of America's leading full-service flooring distributors, has announced the addition of three cutting-edge porcelain lines produced by one of Italy's most venerable tile manufacturers, Atlas Concorde.

"MEK" is a comprehensive, coordinated porcelain floor and wall range characterized by an elegant concrete look enhanced by bright, linear shading of brushed metallic sheets. Large format rectified floor tiles, with an attractive matte finish are complemented by an exquisite array of wall tiles. These include textured "3D tiles," various geometric shaped mosaics and much more.

"ARKSHADE" offers a sophisticated porcelain palette of today's most in-demand colors, defined both by neutral bases and bold hues. Ideal for interiors designed with minimalist concepts, every tile exudes a simple style: surfaces are neutral, the monochromatic palette is subtle… and tone-on-tone accents add a refined simplicity. Arkshade is an ideal collection to be specified for the most contemporary of A & D projects.

"KONE," which has been created to celebrate the simple aesthetic of natural limestone, has already been specified for spectacular European projects where spaces have been created to exude a primitive appeal. This re-creation of natural stone material comes to life in minimalist neutral tones, with a hint of natural veins and fissures.

According to Jane Twombly, BWG's Director of Specifications, "We're excited about these three lines, and confident that the A & D community will embrace each of them wholeheartedly. Architects and designers are always looking for more tools to add to their design arsenals. MEK, ARKSHADE and KONE bring great new looks, rugged durability… and, offer a myriad of solutions, in particular, for commercial specification. And, Belknap White is pledged to give them as much customer support as possible, to accelerate acceptance of their creative work with these world-class materials."

Headquartered in Mansfield, MA, The Belknap White Group is one of the leading full-service, hard-surface flooring distributors in the United States. Family-owned-and-operated for over 35 years, The Belknap White Group strives to deliver excellent service, while partnering with industry-leading suppliers to deliver an extensive portfolio of premium flooring products. We have nine showrooms and distribution locations across New York, New Jersey and New England featuring hardwood, resilient, ceramic and supplies for all residential and commercial applications. For more information about The Belknap White Group, visit www.BelknapWhite.com.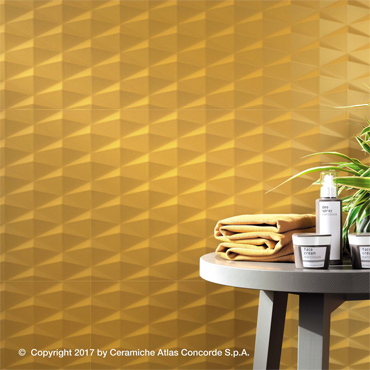 AtlasConcorde Arkshade ST Yellow 3DStars
---
---
Related News
Sunday, May 19, 2019