Nicholson Flooring Co., Inc.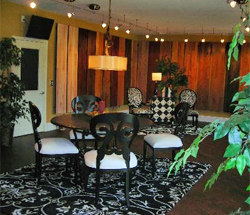 Call
Tel: 336-855-3405
Fax: 336-855-0384
Write
Nicholson Flooring Co., Inc.
3327 North Rockingham Road
Greensboro, NC 27407
United States of America
Nicholson Flooring Company is a family business that was started in 1948 by Eugene Nicholson. Eugene worked hard and built his business to become one of the leaders in hardwood floor finishing in the Triad. His son's, Tommy and Larry, grew up with the business and eventually bought it from Eugene, after many years of training under his watchful eye.

Tommy, who runs the install division of Nicholson Flooring Co., Inc., has worked in the construction industry since he was in high school. He attended NCSU and had his own construction company for several years before going back to work for his father. He has a love of woodworking which he uses in his hobby of wooden boat building. He is a true "craftsman" and loves the challenge of a custom wood floor design and installation.

Larry, who runs the finishing division of Nicholson Flooring Co., Inc., worked alongside his father before attending UNC-Wilmington and Culinary School in Pinehurst, NC. He learned to appreciate the quality his father demanded and continues to offer his customers a finish job that Eugene can be proud of. When Eugene was approaching retirement, Larry rejoined the company and in 1995, he and Tommy took over the business their father had built.

As active members of the National Wood Flooring Association, both Tommy and Larry attend the educational programs offered by the association. They have certifications in several installation and finish courses, Wood Flooring Forensics Technology and Tommy recently became a Certified NWFA Inspector and received his Craftsman Degree. They won Best Kitchen/Dining Room Floor at the April, 2006 NWFA Convention, competing against 157 entries from four countries. They are firm believers in continuing education and do their best to stay abreast of the trends and constantly changing technology in the flooring industry. They were one of the first hardwood flooring companies in the Triad to offer "turn key" service (provide the wood, install and finish it) to their clients. In late 2004, they purchased the first trailer mounted dust containment system in the Triad. This systems reduces airborne dust by 90% when floors are being sanded.