ThomasRECOM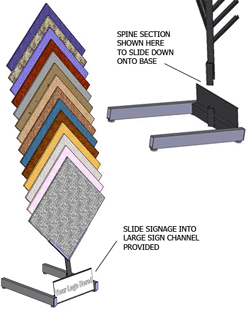 Call
Tel: 813-846-6822
Fax: 813-684-6190
Toll Free: 1-800-973-2660
Write
ThomasRECOM
2104 Whitlock Place
Dover, FL 33527
United States of America
ThomasRECOM designs and manufactures fixtures and displays for the retail flooring industry. With over 18 years of Display design experience dealing with tile displays, Thomasrecom can and has been the premier source for custom and standard retail displays.

Originally ThomasRECOM provided only display design consulting but over the years the company has grown into providing finished products from design concept to delivered product. ThomasRECOM has concentrated on delivering tile display products that are "right" for the industry. Practicality has always been at the forefront of all design-work, with the customers' needs taken into consideration in all aspects of their display products.

Today ThomasRECOM is proud to be a leader in design and manufacturing of displays to the tile, stone, and hardwood industries. ThomasRECOM offers practical retail flooring displays that are maintenance-free, easy-to-assemble and cost-effective.

ThomasRECOM's displays add a brilliant new dimension to commercial tile showrooms, retail tile showrooms, and trade show floors. Engineered with precision, ThomasRECOM's tile and flooring displays accent the products they are inted to exhibit, without drawing overt attention to themselves.

While some of ThomasRECOM's tile and flooring display products are standard stocked items, ThomasRECOM also has the manufacturing capabilities to tweak any of their display products or custom-build displays to tailored to your own personal or corporate needs.