Globalrugs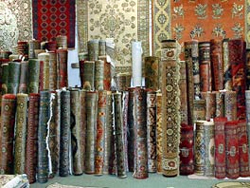 Write
Globalrugs
478 East Columbia St
New Westminster, BC v3l 3x5
Canada


Our hand made collection encompasses Tree-of-life, Four seasons, Window-to-Paradise, Hunting scene, Garden Kashan, Birds-of-Paradise, Mahi, Millefleur, Lillihan, Sarouk, Feraghan, William Morris, Herati, Zul-i-Sultan, Turkoman, Kazak, Uzbec, Royal Bokhara, Euro-Aubusson, and Balouch rugs. Art to last a lifetime including designs from Ancient Babylonia, Sassanian dynasties and the Golden age of Qum, Isfahan, Tabriz, Nain, Kirman, Ardebil, Hereke, Konya. Collectable Dragon rugs, Caucasian, Indo-Persian, Vegetable-dyed, Tibetan, Nepali Mongolian, Ningxia style, Bashiri, Afghan tekke, War rugs, Ziegler, Khotan, Rangi Choub, Kashmiri, Gabbeh, Russian, Romanian, Chainstitch, embroidery, and dhurries.

Tropical lifestyle lines for a change of pace. Westcoast flavour and Euro-style Modern. Old world Mediterranean vistas and bold Geometrics. Each Rug is expertly colour coordinated to harmonize with North American décor.
The rich colour palate ranges from vibrant, traditional, and pastel to contemporary, minimalist and today's fashionable colours. Unique washes re-create antiques, herbal colours, and tea dyes. Mellowed sun washes, and organic Vegetable-dyes, with hand spun natural wool that soften the brilliant hues in Persian rugs, create calm space in a Japanese Garden, and recreate past elegance in European Aubusson style.

Global rugs provides full service home consultation, rug appraisal, hand washing, repairs and restoration.
Have a rug custom made to your size, design, and colour specifications.
The owners of global rugs have five generations of experience and have served Greater Vancouver since 1988.
We welcome you to visit our showroom, email us or call us at 604-419-4441 and join our thousands of satisfied customers.
Web Design
Sunday, October 25, 2020