American Hi Tech Flooring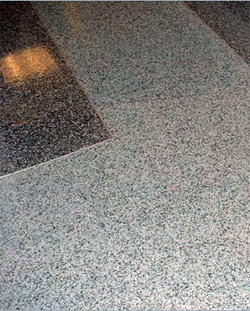 Call
Tel: 757-466-2900
Fax: 757-466-1219
Toll Free: 800-436-6501
Write
American Hi Tech Flooring
952 Norfolk Square
Norfolk, VA 23502
United States of America
Phoenix Epoxy One-Step Seamless Flooring System covering is a 100% solid epoxy and natural marble compound, which comes in pre-measured kit form. It is mixed, poured out and troweled down into a completely monolithic slab, giving you a lightweight, flexible long lasting/durable, easy to clean, non-porous, chemical and fire resistant seamless flooring system.

With no volatile organic compounds, Phoenix poured epoxy flooring is environmentally safe, user friendly and easy to apply. There is no objectionable odor during application: Foodstuffs in restaurants or manufacturing plants do not need to be removed, and respirators do not need to be worn by installers. Special ventilation requirements are not necessary. People can continue to work in adjacent areas with out any inconvenience.

Phoenix Epoxy Seamless Flooring System has a natural texture finish when troweled. It may be installed in smooth or non-slip textures. A wide variety of colors are available. You can design your floor with any combination of colors using metal strip dividers to separate colors and actually create patterns. A sealer coat can be applied to provide a smoother surface that is easier to maintain. The rapid curing qualities make Phoenix seamless epoxy flooring suitable for repair of damaged floors overnight. A manufacturing plant or restaurant floor can be repaired and ready for use again for next day service. Depressions can be filled in and floors pitched or leveled.

Cost savings are significant. With Phoenix One-Step seamless poured epoxy flooring , you can in most cases eliminate costly rip-out of the existing floor. It can be applied over it your existing linoleum, ceramic or quarry tile, metal, wood, concrete, VCT, VAT and sheet vinyl. Phoenix seamless epoxy flooring can also be installed on vertical surfaces such as steps, walls, or fountains. Simply sweep the existing floor, clean to remove surface dirt and grease, then mix, pour out and trowel down the floor system - in a one-step application. A clear sealer coat is optional. Phoenix seamless epoxy flooring does not require a primer or bond coat due to its resin rich formulation. Ready to use within 24 hours, it will outlast other types of epoxy flooring systems.
Phoenix One-Step seamless epoxy flooring can help reduce your slip and fall accidents. Phoenix epoxy flooring is impervious to moisture, and provides a slip resistant surface, even when wet. Up to 85% of workman's compensation claims are attributed to employees slipping on slick floors. The National Safety Council estimates that the compensation and medical costs associated with employee slip and fall accidents is about $70 billion annually.

American Hi-Tech Flooring Company has manufactured and installed the Phoenix Epoxy One-Step Seamless Flooring System and resinous flooring systems since 1977. During this period, we supplied our U.S. Government, industrial, and commercial flooring customers with the most advanced epoxy floor covering available. We are a the prime supplier of epoxy flooring to the U.S. Navy and Coast Guard due the excellent overall properties of our product versus competitive brands. Our product has become commonplace in many commercial establishments such as Food Lion, McDonald's, Hardee's, Burger King in addition to military ships, hospitals, schools, nursing homes, vet clinics, industrial plants, dairies, bakeries and shopping malls.

To this day, this beautiful non-slip floor covering continues to hold market presence. Only recently has our company decided to provide its quality tough-wearing commercial floor surfaces to land based government, industrial, residential, institutional and commercial establishments worldwide.
Products: American Hi Tech Flooring
---