Whole Log Lumber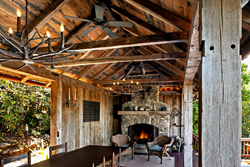 Call
Tel: 828-697-0357
Fax: 828-696-2938
Toll Free: 866-912-WOOD
Write
Whole Log Lumber
195 Blueberry Farm Road
Zirconia, NC 28790
United States of America

Heart pine is our specialty
Flooring made of old growth pine lumber and custom building components of heart pine have been produced from our antique pine lumber mill on the Green River in Western North Carolina since 1984. We also work with reclaimed lumber & flooring of cypress, redwood, oak & chestnut. But long leaf yellow pine flooring, also known as heart pine - is our specialty.

Our client list ranges from rock stars and sports celebrities to architects, builders and home owners who require excellence in both quality and value.

Whether as a provider of hardwood flooring or paneling for walls, we're proud of the fact that our focus is on building relationships and fine homes rather than sales and promotion. For 20 years our customer referrals were our only advertising. 4 Years later that is still true and our repeat business is proof of our customer's satisfaction. 
Jim Stowell, "Saw Sage of the New Age" respects and understands the unique qualities, challenges, opportunities & limitations that heart pine presents. He and his staff work hand in hand with customers to make efficient use of this finite natural treasure and offer the best prices of this calibre wood flooring  available.

The Whole Log team has an ability to refine and simplify the task of interpreting grades & quality, without overwhelming you with more information than you require. The attention they offer your project support its easy management and identify specificity you may have overlooked.

We guarantee your buying experience and satisfaction!

25 Years in Business!
Let's Talk!
We have professionals on staff that can speak Spanish, that would be able to assist you.
Products: Whole Log Lumber
---
Web Design
Saturday, May 28, 2022