Old Growth Riverwood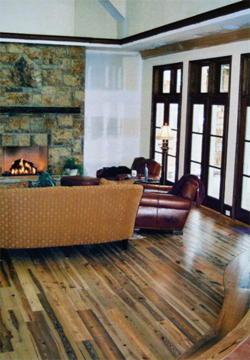 Call
Tel: 910-599-7333
Fax: 910-762-4077
Toll Free: 877-653-4769
Write
Old Growth Riverwood
1407-B Castle Hayne Road
Wilmington, NC 28401
United States of America
At Old Growth Riverwood, we reclaim lost pieces of history and transform them into unique and beautiful wood products for your home or business. We process logs that we recover from the Cape Fear River as well as reclaimed beams from historic structures from the surrounding area. Bringing history into your home, we transform this one-of-a-kind raw wood material into gorgeous flooring, counter tops, molding, mantles, furniture and much more.

Drawing from over 11 years of recovery and reclaiming experience, we are committed to providing unique and high quality products for any of your custom needs. Please feel free to give us a call at 910.762.4077 to discuss your next project.

Old Growth Riverwood is committed to being environmentally responsible and does not cut down any living trees to produce our products. All products are made by existing logs, water submerged logs, or timber reclaimed from old homesites. We bring history into your home, while doing our part to help preserve the future of our living forests.
Products: Old Growth Riverwood
---
Web Design
Tuesday, October 3, 2023