The Floor Store Carpet One Floor & Home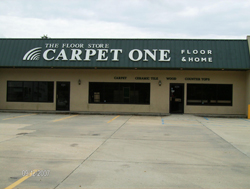 Call
Tel: 225-664-5361
Fax: 225-664-7563
Toll Free: 1-800-256-5396
Write
The Floor Store Carpet One Floor & Home
2540 Florida Boulevard SW
Denham Springs, LA 70726
United States of America
Since opening our first store in Denham Springs in 1984, The Floor Store Carpet One Floor & Home has been an active and trusted place for community members to turn to in time of need.
With the help of our many, many loyal customers, we've proudly been serving Livingston Parish, West & East Baton Rouge, and beyond over three decades, with no sign of slowing down. Over the years, we've weathered through floods and hurricanes alongside our neighbors, as well as celebrated in our customers' excitement over their exciting remodeling and new home construction projects.
Then and now, our mission remains unchanged: to treat every customer's home as if it were our own. Our promise to you: to ALWAYS treat you with honesty, keep our promises, and provide you with the most competitive pricing available. We truly appreciate your business and look forward to working with you for all of your flooring and installation needs.
The Floor Store Carpet One Floor & Home in Denham Springs, LA is proud to provide flooring to Livingston Parish, East Baton Rouge, and surrounding areas.
Let's Talk!
We have professionals on staff that can speak English, that would be able to assist you.
Products: The Floor Store Carpet One Floor & Home
---
Brands: The Floor Store Carpet One Floor & Home
Web Design
Monday, July 4, 2022