W.W. Products Inc.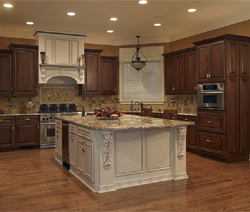 Call
Tel: 573-624-7090
Fax: 573-624-6671
Write
W.W. Products Inc.
10182 Old Highway 60
Dudley, MO 63936
United States of America
Shiloh Cabinetry is built by W.W. Wood Products Inc, a family-owned company since its beginning in 1977. The company is located in Dudley, Missouri, a rural town of under 300 people. Dudley is 2 ½ hours south of St. Louis, Missouri in the bootheel of the state. From the beginning as a molding and milled lumber supplier working out of a small shed to a major supplier of cabinetry with over 1.2 million square feet of manufacturing space with the best equipment available. We have enjoyed steady, robust growth because of our commitment to provide quality products made from quality materials and by hard-working employees.

Our company is extremely self-sufficient, relying very little on outside sources to provide components to build our cabinetry. We have invested heavily in state-of-the-art equipment to be extremely competitive and control the quality of the cabinetry we produce.

Shiloh Cabinetry is available in most areas east of the Rocky Mountains. Our cabinetry is sold exclusively through our network of authorized dealers. Every cabinet is built-to-order by a skilled labor force and treated like furniture. After completion, a foam wrapping is put around finished parts and shrink-wrapped. Then, each cabinet is wrapped in furniture blankets and loaded on company owned and operated trucks and delivered to the dealer.
Brands: W.W. Products Inc.
---
Shiloh Cabinetry
Website
|
Where to Buy
Shiloh Cabinetry is built by W.W. Wood Products Inc, a family-owned company since its beginning in 1977. The company is located in Dudley, Missouri, a rural town of under 300 people. Dudley is 2 ½ hours south of St. Louis, Missouri in the bootheel of the state