IceStone LLC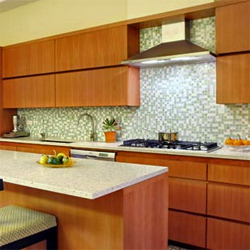 Call
Tel: 718-624-4900
Fax: 718-624-4002
Write
IceStone LLC
Brooklyn Navy Yard
63 Flushing Ave Unit 283 Building 12
Brooklyn, NY 11205
United States of America
IceStone® durable surface material is made from recycled glass and concrete. It was developed over a five year period and has a patent-pending.

This product is produced by an environmentally friendly manufacturing process in our daylit factory in Brooklyn, New York. Our goal is to be the top choice for green countertops by producing beautiful materials that rival the strength of quarried stone, yet actively reduce the waste stream by redirecting glass from landfills to be used in our product.
Brands: IceStone LLC
---
Icestone Surfaces
Website
IceStone surfaces are made with 100% recycled glass in a cement matrix and reduce the amount of glass in the waste stream.
Web Design
Friday, June 2, 2023