Aces Bamboo Ltd.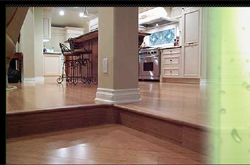 Write
Aces Bamboo Ltd.
Surrey, BC
Canada
Aces Bamboo supplies and market only the finest of bamboo flooring and construction products from our own factories in China. We only select the fully matured bamboo along side with safe and eco friendly chemical glues and finishes. Aces Bamboo offer the highest grade in flooring, moldings, dimensional lumbers and many other bamboo made products.

Our company has over 10 years of experience together with experts in bamboo flooring and products, we provides the finest in the world. We select only the fully matured bamboo aged between 5-7 years old. We take pride in our products we represent. Not only are we insistent on the highest grade materials for our products, we are also conscious as to how our products are made and who our partners are in China. We are very happy to have our partners in China whom share the same philosophies. Our manufacturing partners are all ISO 9000 certified; they use the most advanced German precision milling machinery and industrial strength adhesives available on the market. All of our bamboo floor technologies have been exclusively and carefully developed. We cater to residential homeowners whom want their floors to last a lifetime, and developers and contractors that want beautiful, unique, reliable, and consistent, highly stable, and long lasting products.

We are the best in Canada and we have expanded our market in America, Europe, Australia and most of Asia, supplying only the finest quality bamboo flooring and construction products.

Because bamboo is a grass as opposed to a tree its finished appearance is uniquely itís own. We would like to promote the use of bamboo products as a natural progression towards the need to source products of a regenerative and sustainable nature. We hope the use of bamboo will aid in the future of a better eco system to further reduce in the cutting down of trees from our forests, which in return will provide our next generation with a more eco friendly environment.


There are no better products when it come flooring with a higher grade, more durable surface made from any wood product than bamboo. If you are looking for an exotic yet eco friendly product to create a long lasting impression, Aces Bamboo will provide you with everything you are looking for from flooring, moldings, planks and much more. No room will be ever more attractive than the room with bamboo made.

Products: Aces Bamboo Ltd.
---