B & H Commercial Services, Inc.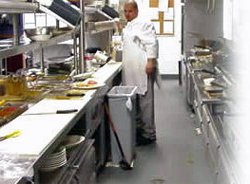 Call
Tel: 919-852-5279
Fax: 919-852-5281
Write
B & H Commercial Services, Inc.
873 Perry Road
Apex, NC 27502
United States of America
The parent company of B & H Commercial Services, Inc., R. Dale Brock & Associates started in business in 1978 as a commercial janitorial service and we are still in operation after 22 years. Since 1978 we have expanded our business into several areas including commercial food preparation areas, concrete floors, terrazzo floors, marble floors, carpet care and wood gym floors. We have developed a thorough knowledge of the flooring industry.

In 1995 we were introduced to the Protect-AllŪ Flooring industry and created B & H Commercial Services, Inc. During the last four years, we have worked for several distributors throughout the country and have learned a lot of things to do and not to do. Some things we have learned, we will not change. We are not willing to gain market share at the expense of relationships and we will not sacrifice success for the sake of integrity. We are not willing to shave cost by cutting quality, as we have found over the years that it is more important to maintain a respected reputation by delivering excellence in service.

We constantly struggle to maintain high values in our business life. In a day when ethical failures soar, it is up to us to be leaders in the realm of business ethics. Business ethics means looking beyond the profit margin. It means meeting the needs of the customer as a person, not just a consumer, using the abilities and suggestions of our employees. Speaking of employees, we have worked over the past five years to hire some of the finest people in the business. This is not an easy task when you are searching for people with high morals, integrity and ethics. All of our people are on a 18-24 month continuous training program before they can be a certified technician. They must pass all levels before they can manage a crew and install flooring.

We thank you for taking this time to read about our company, goals and standards. In the installation service industry, there is always room for improvement and we are going to continue to strive for excellence in the quality of our work.
Products: B & H Commercial Services, Inc.
---