M-Boss, Inc.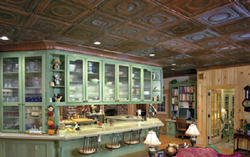 Call
Tel: 216.441.6080
Toll Free: 866.886.2677
Write
M-Boss, Inc.
4400 Willow Parkway
Cleveland, OH 44125
United States of America
Tin ceilings and Accessories manufacturer specializing in antique, classic reproduction panels, sleek contemporary panels, replicated and custom creations to change the look of your ceiling. Whether you are replenishing or installing a turn of the century look, creating an ultra modern look or completely designing anew, M-Boss Inc can provide ceiling panel for you.