W.A.C. LIGHTING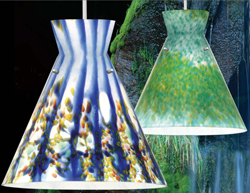 Call
Tel: 516-515-5000
Fax: 516-515-5050
Toll Free: 800-526-2588
Write
W.A.C. LIGHTING
615 South Street
Garden City, NY 11530
United States of America
Celebrating its 21st anniversary in 2005, W.A.C. Lighting has developed a stellar reputation for high quality product lines backed by an extraordinary level of service. W.A.C. Lighting is acknowledged in the industry as a leader in the decorative "quick ship" residential and commercial interior lighting market as evidenced by an unprecedented shipping record (96% of orders shipped within 48 hours) and more than a dozen industry awards for product design and excellence since 1995. A large staff of service professionals, constantly updated product literature and a newly upgraded website where lighting professionals can access catalog information and product details all contribute to the company's continuing promise to provide exceptional sales service.

W.A.C. Lighting also offers extensive manufacturing capabilities that meet the high standards of the International Organization for Standardization. Achieving ISO 9001 Certification in the summer of 2000, W.A.C. assures quality performance in product design, development, production, assembly and service. Engineering and product development are conducted in a company-owned 120,000 square foot production facility in China. W.A.C. has two United States service facilities, a 50,000 square foot office and distribution center in City of Industry, California and the recently expanded 85,000 square foot corporate headquarters and east coast distribution center located in Garden City, New York.

Innovative world-class designs and state-of-the-art technology are hallmarks of the W.A.C. Lighting product line. Updated with an extensive lineup of product releases for the residential, commercial and specification markets, 2005 introduced a comprehensive low voltage downlighting line (Precision Downlights), a line of specification grade track fixtures that work with our industry standard L, H, and J/J2 track (Precision Spots), and recessed modular fixtures that provide modern lamping, lens, and adjustability options (Precision Modules). These innovations will only continue as we address the product and application requests we get from you, our customers.

Affordable pricing, outstanding quality and versatile options are what lighting buyers have come to expect from W.A.C.' line of products. Today's building plans require lighting to illuminate a variety of both simple and hard-to-reach areas while maintaining a visually interesting space. W.A.C.'s family of luminaries accomplish this goal. If a buyer has a broad range of lighting needs, then W.A.C.'s diverse line will meet them. From retrofit to new construction, from state-of-the-art technology to miniaturization, W.A.C. Lighting has passed the test of time.
Products: W.A.C. LIGHTING
---