Naytura Designs,Inc.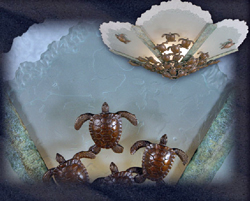 Call
Fax: 866-422-7473
Toll Free: 866-807-3057
Write
Naytura Designs,Inc.
3000F Danville Boulevard
#504
Alamo, CA 94507
United States of America
Online
Naytura is a group of employed artists & craftsmen that specializes, designs and builds hand forged iron & bronze chandeliers, sculptured glass chandeliers, along with limited antler and fallow fixtures.
Our line also includes artistic sconces to match our larger fixtures along with fireplace screens and glass work.

We are makers of fine architectural art. Working predominantly in glass, iron and bronze. Naytura creates unique fixtures that are truly inspiring. We enjoy creating lighting fixtures that blend nature with both traditional and contemporary decors.
Products: Naytura Designs,Inc.
---