Oddly Enough Mosaics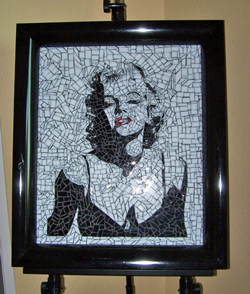 Write
Oddly Enough Mosaics
10450-144 Street
Edmonton, AB T5N 2V4
Canada

Oddly Enough Mosaics is the online mosaic supply business of Erin Pankratz-Smith and Jeremy Smith. We are based in Edmonton, Alberta, and we have customers from all over the world!

Erin started mosaicing at the tender age of 17. She comes by her mosaic habit honestly, as her grandfather Bud had mosaiced for decades! When he passed away in 1999, Erin inheirited his funky tiles. It was about this time that we received a computer of our own, and plugged into the information superhighway! Soon Erin was busy searching out more interesting tiles and suppliers on the net. It was pretty slim pickings, so Erin decided that she could help support her own mosaic habit by supplying others.


We had pretty modest beginnings on ebay back in 2001, but grew as people asked for more and more products. In time we developed the first www.oddlyenoughmosaics.com website, using an inexpensive template that had some peculiarities right from the beginning. We knew we had to put a better site up, but neither of us were particularly computer savvy at the time. That's changed as Jeremy has devoted considerable time and energy learning the ins and outs of how a website and database work by trial and error, and frequent reference to various forums online. We think the end result is a pretty good site, that will be easy for you to use, and that will hopefully become one of the premiere online resources for the mosaic community worldwide!
Products: Oddly Enough Mosaics
---
Web Design
Tuesday, October 3, 2023