Oceanside Glasstile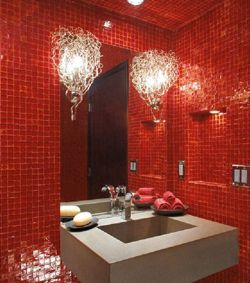 Call
Tel: 760.929.4067
Fax: 760.929.5867
Write
Oceanside Glasstile
2293 Cosmos Court
Carlsbad, CA 92009
United States of America
Online
Oceanside Glasstile, a world leader in the design and production of handcrafted glass tile, was founded in 1992 when four partners (three glass artists and a self-described bean counter) were united by a singular passion?to interpret art glass in new forms for architecture and interior design. Today, more than fourteen years later, that fire burns even brighter, fueled by the enduring belief in the need for beauty in our everyday lives.

Oceanside Glasstile pioneered the domestic development of handcrafted glass tile. Since our inception, we've been combining time-honored glass knowledge with a modern approach to design to craft truly stunning tile in small batches, casting and finishing by hand. Many craftspeople create our tile and each takes great care to assure every tile meets customer expectations for beauty, quality and individuality. Freeze/thaw resistant, Oceanside Glasstile is used in both outdoor and interior design applications, including kitchen backsplashes, bathrooms, fireplace surrounds, and feature walls. Our products are also ideal for submerged applications such as pools, fountains and spas.


Respect for the environment and respect for our employees are principles essential to our company philosophy. We strive to help people create beautiful and comforting living spaces, conducive to health and productivity. All Oceanside Glasstile is made from silica sand, an abundant natural resource, and up to 86 percent recycled material.

Annually, we use more than two million pounds of glass from curbside recycling programs (called cullet), turning waste that would otherwise end up in landfills into expressive and sustainable design materials.
Products: Oceanside Glasstile
---
Web Design
Sunday, September 24, 2023