Antique Woodworks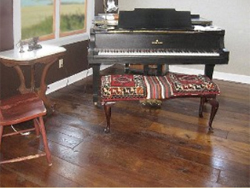 Call
Tel: 888-350-4790
Fax: 888-226-5370
Write
Antique Woodworks
222 West Lake Street
Norwood, MN 55368
United States of America
If you're looking for antique flooring, reclaimed lumber or rustic furniture near the Minneapolis / St. Paul Minnesota metro area, your best bet is to visit the millwork facility in Gaylord, Minnesota. It's just Southwest of the metro area, about 35 miles from Chaska. It's fun to see the big machines and incredible old timbers. (When's the last time you saw a 28-foot, hand-hewn oak beam?) There's wood in our yard that's like nothing else around; it's amazing stuff.

We get different reclaimed materials all the time; that's where a site visit really comes in handy. Give us a call ahead of time. We're around at various times, 7 days a week and into the evenings. Grab your kids and your "mucking boots," and we'll find some good stuff for you.

If you're out and about in Minnesota and just want to see some real antique reclaimed flooring, unique ceiling paneling, or old barn beams in person, just visit some of our public installations. As public places go, the person behind the counter may or may not know anything about the wood, but you'll at least get a chance to take a peek.
Products: Antique Woodworks
---