Office Lift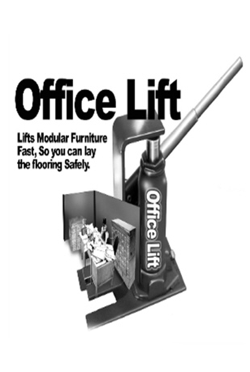 Write
Office Lift
8898
Newport, MI 48166
United States of America
There's no need to demo a workstation. OfficeLift Systems allows you to keep all workstations right where they are while installing new
floorcoverings.

OfficeLift Universal Lifting Systems allow you to increase your production by 30-60%. We can even custom fabricate lifts to your specifications. You name it we'll build it.

So don't get discouraged when you see those two-ton file cabinets. You can finally offer your customers/facility managers the answer to every obstacle.

All of our systems, even custom fabrication, include a one year replacement warranty. That's right, our warranty is like no other's, plus we add our customers to a worldwide database. That allows us to help you create more business and to assist general contractors/facility managers find an experienced furniture lift contractor.

What's even better, you own your lifts, no labor or purchase agreements!
Web Design
Sunday, September 24, 2023