Carina Works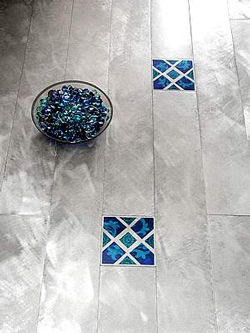 Call
Tel: 800-504-5095
Fax: 503-210-1491
Write
Carina Works
4312 Sinclair Ave
Austin, TX 78756
United States of America
"Carina Works" is named after the spectacular Carina Nebula in our solar system where celestial stars are born, a beautiful reminder of the miracle of creation and the gift that mankind inherited in his ability to bring beauty into our everyday life.

In 1997, Libby Fenner, an artisan with a degree in music, and Charlie Foster, a glaze technician and restoration artist, founded Carina Works, Incorporated.

Fenner and Foster became aware of a need for unique contemporary hardware. They spent several years in R&D to develope a glazing process using enviromentally friendly components combining original art with a rich durable glass-like glaze on aluminum.The art and glaze are permanently fused together with the metal. Armed with endless ideas and a passion to create something beautiful and unique as well as functional, Carina Works metal cabinet hardware was conceived. After years of research and development with a huge array of materials, Carina Works hardware evolved into an extensive and diverse line of "jewelry" for the home.

The metal cabinet hardware line resembles small metal tiles and it was a natural next to create larger tile size versions using the same process. In the beginning they only offered their decorative metal tile for wall use. Eventually, after thousands of man hours and hundreds of prototypes. a sucsessful flooring glaze was developed which strictly adheres to the eviromentally friendly goal set out by Fenner and Foster as stated in their mission statement.

Prior to the formation of Carina Works, Foster had worked in the chemical coatings industry for thiry years and developed several solvent based glazing systems which were used extensively in the USA and Europe for refinishing ceramic tile. He was frustrated with the lack of progress in industry development of enviromentally safe coatings that performed well and were user friendly. As a way of giving back to the environment he set out to create a superior chemistry which out-performed traditional solvent based glazes in terms of adhesion, abrasion resistance, uv resistance, stain resistance, moisture resistance, and durability. The proven Carina Works flooring glaze is a superior glaze and is a key to the sucess of the flooring line.

Fenner brings the artistic talent to Carina Works. She is a talented songwriter and gifted visual artist working in a variety of mediums. Her original design talent is evident in all Carina Works lines and in commissioned creations all over the USA. Her eclectic taste ranges from an appreciation for historic design and natural elements to the clean lines of contemporary form. This versatility enables Carina Works products to be incorporated into any design style and period with a contemporary flair that is timeless. Because any design can be integrated into Carina Works products, the possiblities are endless.

The best part of their work is connecting with customers. Fenner and Foster appreciate the creative impulse in every person's drive to integrate artistic expression into their surroundings. They enjoy being a part of bringing beauty to the sacred space of the home as well as enriching the corporate environment.
Brands: Carina Works
---
Carina Works Metal Tiles
Website
In 1997, Libby Fenner, an artisan with a degree in music, and Charlie Foster, a glaze technician and restoration artist, founded Carina Works, Incorporated.
Web Design
Wednesday, December 1, 2021