Bahr Company - Chicago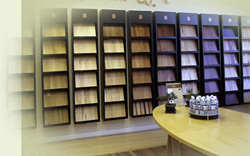 Call
Tel: 773-282-3838
Fax: 773-282-3833
Toll Free: 800-533-9460
Write
Bahr Company - Chicago
4149 North Montrose Avenue
Chicago, IL 60641
United States of America
What is now a distribution company of fine wood floors with warehouse space of over 43,000 square feet and a staff of over 25, began in 1919 by two brothers, Wilton and Stanley Wilcox. They supplied lumber to the pattern makers of the foundry trade, but it was Wilton Wilcox III who succeeded his elders and utilized dry kiln technologies on the highly sought after white pine lumber from their home state of Wisconsin.

In the 1940ís, a hard-working entrepreneur in the wholesale lumber business named Fred Bahr forged a strong business relationship with Wilton Wilcox III. The two companies, The White Pine Lumber Co. and The Bahr Co., then successfully moved ahead into the 1950ís, 60ís and 70ís.

In 1978, Wilton Wilcox III and Fred Bahr sold their companies to current President Jim Duncan and Secretary/Treasurer Jack Schroeder. The White Pine Lumber Co. has maintained its pattern and foundry work, but by the early 1980ís, Duncan and Schroeder had found unique opportunities in the specialty wood and hardwood flooring markets they had been looking for. And in 1985, they changed the focus of The Bahr Co. from wholesale services to distribution.

Today, The Bahr Co. selects products from only the best hardwood flooring manufacturers in the world.
These products are then brought to consumers by way of retail flooring stores, commercial flooring contractors, independent flooring contractors, architects and designers.

All products come with strong merchandising support too. We can supply product samples, brochures and in-store displays. We have also created our very own piece, ďThe Step by Step Guide to Selecting Hardwood FlooringĒ, to help end-users make the best wood flooring choices. The brochure is available for point-of-purchase use and itís on our website.

Our industry experience is incredibly extensive. All of our sales people have broad knowledge of the business from former work as either flooring store owners or independent flooring contractors. They have traveled to Canada, Europe, Central and South America to source our high-quality products. Our sales people are experts in the field and their knowledge allows them to educate and guide customers into making the best choices for their needs. Best of all, they are some of the most likable and hardest working people in the business.

Our Customer Service staff maintains expertise in their field and has received glowing reports from customers as well. As long-term and dedicated employees, they thoroughly understand the workings of the company and routinely attend training courses to stay up-to-date on industry happenings. They make it a point to satisfy customer requests in a timely manner, if not immediately.

Unlike other hardwood distribution companies, we employ architectural design representatives whose job it is to get our products specified by the architectural and design community throughout the country.
We also maintain an extensive tool repair facility in our Chicago location. All sanding and installation equipment is expertly repaired and loaner equipment is available for use while repair work is done.
Products: Bahr Company - Chicago
---