Walk On Wood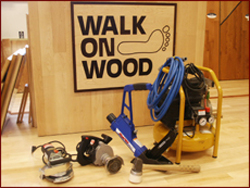 Call
Tel: 315-622-1200
Fax: 315-622-1200
Write
Walk On Wood
7842 Goguen Drive
Liverpool, NY 13090
United States of America
Walk On Wood, Innovate, Inc., was established in 1996. Offices are located in Central New York, one of the best regions for hardwood resources. Walk On Wood sells its hardwood flooring products, equipment and supplies to Syracuse, Rochester, Buffalo, Albany, Watertown, Ithaca, Utica and the rest of the world.
EXPERIENCE & KNOW-HOW
The combined experience of the company's staff spans the entire wood flooring industry from the manufacturing process to installation and finishing of floors. All staff receives continuing education on the newest advances in the wood flooring industry. As members, each year we attend the National Wood Flooring Association conference to gather information.

When you contact Walk On Wood, you can be assured that you are dealing with some of most knowledgeable people in the industry. As a result, you receive the best products and the best information available.