Creative Designs in Carpet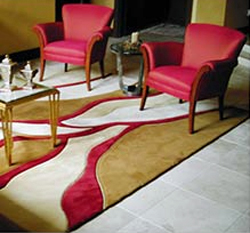 Call
Tel: 954-971-2949
Fax: 954-971-4375
Toll Free: 800-553-8773
Write
Creative Designs in Carpet
2440 NW 16th Lane
Pompano Beach, FL 33064
United States of America
Creative Designs has more than 25 years of Excellence in the design and manufacturing of custom area rugs for the Interior Design Trade. Our staff is complete from showroom sales to our in-house carpet designer.
We hand-tuft our rugs to your interest. You design on paper and we will design on carpet. Our showroom is located in Pompano Beach, Florida. Please call for an appointment.
Products: Creative Designs in Carpet
---
Brands: Creative Designs in Carpet
---
Masland Carpet
Website
|
Warranty
|
Clean
|
Maintain
|
Green
Masland Carpets and Rugs was founded in Pennsylvania in 1866 and still today boasts of its heritage as the leading carpet manufacturer in the United States. Since 1866, Masland has insisted that its carpets and rugs maintain the highest quality. The tradition of manufacturing quality products has been practiced for over 140 years and continues to be practiced today.
---
Oriental Weavers Rugs
Website
|
Tips
Oriental Weavers provides a wide array of products ranging from area rugs in all sizes to wall to wall carpets for domestic use to custom made orders for the hospitality industry.Design and colour variety give us the capability to keep up with the latest fashion trends world wide and thus remain the number one rug and carpet manufacturer in an ever growing industry.
Web Design
Monday, January 18, 2021