BamStar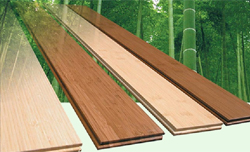 Call
Tel: 216-245-6400
Fax: 216-245-6480
Write
BamStar
26300 Village Lane, Suite P7
Beachwood, OH 44122
United States of America
BamStar Bamboo Flooring, a product of ELLIS USA, has been involved in hardwood lumber manufacturing and export business for over 35 years, shipping worldwide from facilities in the USA, China and Europe. For the past 17 years, BamStar has been manufacturing high quality flooring in Europe and with our partners in China.
†The bamboo used for BamStarís FLOORING is Moso (Phylloystachus Pubescens) Bamboo, grown in ed areas by indepent farmers in Zhejiang and Anhui Provinces in China. Of the numerous species of bamboo grown worldwide, this is the only specie s enough to produce BamStarís bamboo products. The bamboo used by BamStar is harvested at about 5-6 years of age to ensure mature growth, consistent color and hardness. This is the ideal age for harvesting, with the remaining roots re-growing in order to be re-harvested in a future growth cycle. Since Bamboo is a grass and not a tree, it is classified as a sustainable and renewable resource being environmentally frily.
†
†BamStar is widely recognized as being one of the leaders in the bamboo flooring industry, offering one of the best (if not THE BEST) qualities of bamboo flooring products, as well as the largest range of bamboo flooring, bamboo panels and veneer, and bamboo accessories (moldings, stair-treads, vents and wall coverings) on the market, all at very competitive prices.
†
†By having our own China operations, we are able to guarantee consistency of production, manufactured with state-of-the-art German and Italian machinery and coating plants, utilizing only European (Scandinavian) glues and German finishes, that all strictly conform to European Union E1 emission standard, and lower, now approaching E0 standards. The glues used are well below OSHA and CARB2 required standards. BamStarí s Prefinished flooring is coated 9 total coatings, including Aluminum Oxide and an Anti-Scratch topcoat all UV cured to ensure hardness and durability of finish.
†
†BamStar offers direct shipments from our China factory, as well as supply from our large inventory warehoused in the USA.
†
†BamStar is committed to providing the best quality bamboo flooring, bamboo panel products and bamboo house-wares on the market, and will continue to develop new and innovative products.
Web Design
Saturday, January 23, 2021