A & B Display Systems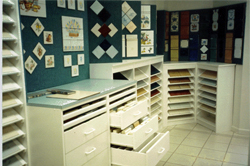 Write
A & B Display Systems
1111 South Henry Street
Bay City, MI 48706
United States of America
Online
A&B Display Systems, Inc. was founded in 1987 by Cris W. Anderson and James L. Belanger to provide an enterprise dedicated to the manufacture and sale of Ceramic Tile Showroom Displays. The Company began as A&B Enterprises, Inc. and became A&B Display Systems, Inc. in March of 1990 when it incorporated in the State of Michigan. In 1992 James L. Belanger became the sole owner of the business.

A&B Display Systems, Inc. manufactures point of purchase displays and displays used in ceramic tile showrooms. The Company has sold displays in all fifty states and its International Division has sold orders in Colombia, Puerto Rico, Samoa, Russia, England and the British West Indies. The Company employs 26 full time employees and 2 part time employees with annual sales at $2,500,000.00.
During the first five years of operation, all manufacturing processes were subcontracted. In 1992 an opportunity to purchase equipment from a display manufacturer in Dayton, Ohio was realized and our own manufacturing process began with three employees. Our growth has been phenomenal over the past few years and we now own and occupy a 50,000 square foot manufacturing facility in Bay City, Michigan.
A&B Display Systems, Inc. is dedicated to providing high quality display systems for the Ceramic Tile Industry. We work with ceramic tile distributors, ceramic tile manufacturers and showroom designers throughout the country as well as providing a design service to interested clients. We have produced showrooms extensively throughout the United States. We display our products each year at the annual Coverings International Ceramic Tile Exposition which has been held in Florida the past few years.

We look forward to serving your ceramic tile display needs. We are also a VelcroŽ Brand Fastener Distributor and inventory VelcroŽ Brand Products. Call us at 989-893-6642 or fax us at 989-893-6643 and thank you for visiting our international website.
Products: A & B Display Systems
---