National Coatings Co.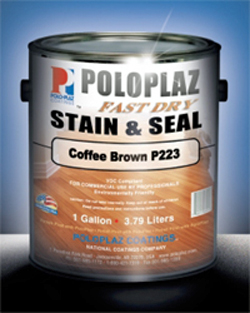 Call
Tel: 501-985-1172
Fax: 501-985-1359
Toll Free: 800-421-7319
Write
National Coatings Co.
1 Paradise Park Road
Jacksonville, AR 72076
United States of America
POLOPLAZ began in about 1961 as National Coatings Co. The founder of the company had been employed during the 1950's in research and development at Union Carbide. During this period, Union Carbide spent considerable resources developing the polyurethane technology that had been started during World War II.

The company prospered as a small business until the founder became ill and could no longer manage it. Mac Hogan took the reigns in 1988 and began buiding the company into one of the major players in hardwood floor finish in North America. Since then, literally millions of dollars have been invested in new products, facilities, and equipment to keep National Coatings on the cutting edge of finish technology.

PoloPlaz was the trade name of the products produced by National Coatings. Over the years, more and more customers began to refer to the company by the brand name. In 2006, National Coatings offically became known as PoloPlaz.

Unlike most finish companies who purchase all or some of their products from contract or toll manufacturers, PoloPlaz products are all made in house from our own formulations. Very few companies can make this claim. This approach ensures products are actually designed for the application and quality can be maintained to higher standards.

We at PoloPlaz are dedicated to your success. To be a successful floor finisher today, you must practice professional craftsmanship, use the highest quality products, maintain high margins, stay on schedule, and have immediate access to technical support.

PoloPlaz products are proven to be the highest quality in the industry. Used on most NBA floors, commercial buildings, residences coast to coast, and even the Olympic floors in Atlanta, GA and Athens, Greece, our reputation speaks for itself.

We know the schedule you keep is for your convenience, not ours. That's why we offer hassle-free delivery right when you need it. Should there be any problem with the freight lines, we handle it ASAP so you can continue to service your business without missing a beat. Just another way you finish first with PoloPlaz.

Our mission:
"Through superior service and the highest quality problem solving products, make our customer, the hardwood professional, even more successful."

Products: National Coatings Co.
---
Web Design
Monday, November 29, 2021