Jeffrey Court, Inc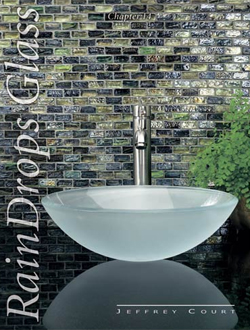 Call
Tel: 951-340-3383
Fax: 951-340-2429
Write
Jeffrey Court, Inc
620 Parkridge Avenue
Norco, CA 92860
United States of America
Jeffrey Court was established in l991 as a California corporation. Our initial offering consisted of only 24 items most of which were simple "stick and fire" decals applied upon 4 1/4" white tiles and a handful of flat liner bars. It is hard to believe that only 15 years ago the industry was nearly void of "decorative" tiles which was our motivation to enter this niche in the first place.

In l992 we opened our first "real" production facility in Juarez, Mexico where we slip cast molding pieces for sales in the U.S. After several years of expanding sales it was decided to move our production back to the U.S. and to mechanize the molding production by changing to the pressing method of making tiles. Our initial plant was in Corona, California right down the street from our main offices and warehouse facility. In the ensuing years more personnel, more equipment, and more products were designed and made by Jeffrey Court to include real arts-and-crafts style tiles mimicking the tiles made in the early 20th century.

Starting in l998 a decision was made to augment our hand crafted tile production with imported stones from Europe and the Far-East. Jeffrey Court was one of the first to travel to China to start serious importing relations to bring in decorative stone mosaics from China. Over the years we have expanded this portion of our business to become one of the leaders in our industry in both fashion and variety. By the early 21st century Jeffrey Court has truly become a one-stop-shop for decorative tiles and stones which include other sought after elements used in the "up-market" segment of the industry namely glass and metalized tiles. From the first years we have come a long way to now stock over 3000 different decorative tiles and stones.

On the side of service, Jeffrey Court departs from many of our competitors by stocking virtually all items showcased in our "Chapters". This obviously is a costly expense but allows us to better service our exclusive network of dealers and sell through to the major home builders across the U.S. where quick availability is essential. Also, over the years Jeffrey Court has heightened awareness of this decorative category with our advertising in major design magazines like Veranda, Western Interiors, New York Spaces, and Coast Magazine to name a few. Our "Montage" decorative sample boards are another example of why we are leaders in the industry by smartly combining different decorative elements making design decisions even easier for our customers.

Jeffrey Court is pleased with our progress in 2007 by adding new or revised Chapter 2 -Island Shades, Chapter 4 - Antico Portuguese, Chapter 9 - Pietra Opus, Chapter 17 - Irish Ice, and Chapter 18 - Mozart's Mosaics. All five new series display our continuing commitment to provide "up-market" distinctive products that should have market appeal for many years. We have more exciting products made in our new Southern California tile making facility ready for introduction in early 2008. Combining our ever expanding strong array of beautiful tiles, stones, glass, and metals with our commitment in the areas of advertising, increased manufacturing capabilities, and new Essence sample program, we believe the future will continue to be very bright for Jeffrey Court and our aligned destination dealers and designers.
Products: Jeffrey Court, Inc
---
Brands: Jeffrey Court, Inc
Web Design
Wednesday, April 14, 2021