Wirth/Salander Studios Inc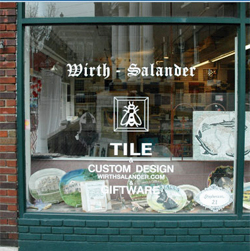 Call
Tel: 203-852-9449
Fax: 203-866-5390
Write
Wirth/Salander Studios Inc
43 North Main Street
South Norwalk, CT 06854
United States of America
The enduring beauty of European hand-painted tiles, ceramics and mosaics can transform any living space into a work of art.
Internationally recognized tile artists, Kim Salander and Georgette Wirth of Wirth Salander Studios, Inc. in South Norwalk, CT have been creating custom tile and ceramic art for kitchens, baths, foyers and living areas for over 15 years. Their work has appeared in the pages of the leading Home and Decorating Magazines and their clients include top architects, interior designers and celebrities.
Wirth Salander Studios invites you to discover how their unique "world of possibilities" can transform any living space into a masterfully created testament to good taste.