Mercury Carpet & Flooring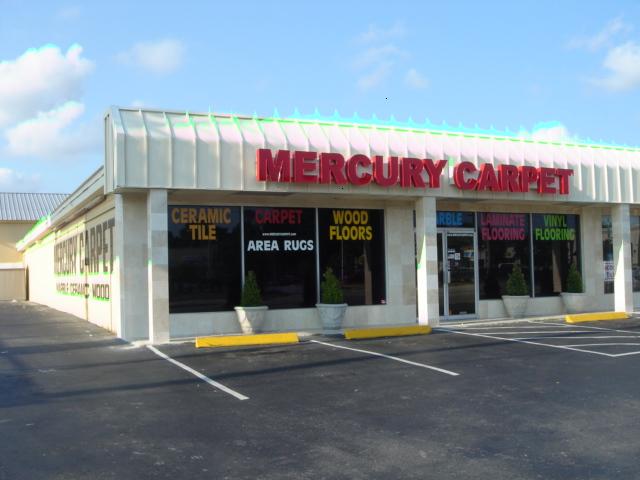 Call
Tel: 904-399-5020
Fax: 904-399-5710
Toll Free: 1-888-399-5020
Write
Mercury Carpet & Flooring
5911 Beach Boulevard
(Beach Blvd & Univ Blvd)
Jacksonville, FL 32207
United States of America
In 1970 Mercury Carpet opened its doors in a converted gas station, located on St Augustine Road. The bay areas were loaded with rolls of carpet and the showroom was a 10x10 area where the attendant used to sell oil and coolant. In just one year's time the business grew, as did the need for a larger facility. In 1971, they purchased our current location at 5911 Beach Blvd.
Dan Tristan joined Mercury Carpet & Flooring in 1988. In 1989 and fresh out of college and armed with a business degree from Auburn University, John Namen, Joseph and Vicki's youngest child, joined the family business, giving his parents a well-deserved break. John grew up in the carpet warehouse so it was only natural for him to now run the company. In 2001 Dan Tristan and John Namen formed a business partnership. In January of 2002, George A. Tristan, a flooring professional with over forty years of experience, joined Mercury Carpet & Flooring, and is currently a valued member of our staff.
Through the years the showroom and warehouse has expanded and now showcases over 10,000 sq ft of flooring, including Carpet, Hardwood Floors, Laminate, Marble, Granite, Sheet Vinyl, Solid Vinyl Tiles, Porcelain Tiles, Cork, Bamboo, Travertine and finishing touches like Area Rugs and Window Treatments.
Let's Talk!
We have professionals on staff that can speak English, that would be able to assist you.
Products: Mercury Carpet & Flooring
---
Brands: Mercury Carpet & Flooring
Web Design
Wednesday, July 6, 2022