Roppe Corporation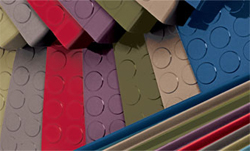 Call
Tel: 800-537-9527
Fax: 419-435-1056
Write
Roppe Corporation
1602 North Union Street
Fostoria, OH 44830
United States of America
Choosing Roppe means that you are choosing to work with a product partner that is Proven. Roppe is celebrating over 50 years as a leading manufacturer in the commercial flooring industry. Our company is family owned, and is a very integral part of the small Midwestern town of Fostoria, Ohio, where our headquarters are located. The longevity of our company is a testament to the employees that live local to this community and take pride in every product that is manufactured, shipped and delivered to our end-users. Our products have stood the test of time, and our service and commitment to the commercial flooring industry is proven.

Choosing Roppe means that you are choosing to work with a product partner that has centralized its product mix around Flooring. The commercial flooring industry has many manufacturers. Roppe realizes the importance of having a range of products readily available to the end-users, so the job can be completed in a timely manner. The need to work with several suppliers is usually unnecessary, as we offer all of the products that are needed to provide a clean, finished, professionally designed interior space. Roppe is flooring.

Choosing Roppe means that you are choosing to work with a product partner that has many positive Experiences from within the field to share. When you think of the last job you installed or sold, do you have a positive and satisfying recollection of the vendor that you worked with? When you choose Roppe, you will always finish the project knowing that you partnered with one of the best manufacturers that the commercial flooring industry has to offer! The entire Roppe team works to provide you with the added benefits of innovative products, great customer service, flexible logistics requirements and the industry's first Single Price Point system! All colors from Black to Pink – one price per product in our major product lines: wall base, tile, treads and accessories.

Being the easiest company in the commercial flooring industry to do business with is a long-standing goal for the entire Roppe team. We invite you to share in the Proven. Flooring. Experiences. that make Roppe the partner you want to work with.
Products: Roppe Corporation
---
Brands: Roppe Corporation
---
Roppe Rubber Flooring
Website
|
What's New
|
Green
Roppe Corporation has been in the flooring business since 1955. And, even though we've grown (we are the world's largest rubber cove base manufacturer), our philosophy of business has not. It's simple: We pledge to provide you, our customer, with the best in quality, service, and dependability, all the time, every time. With over 40 years of experience and commitment, we continue to supply the best.
Web Design
Monday, March 27, 2023