Allstate Rubber Corp.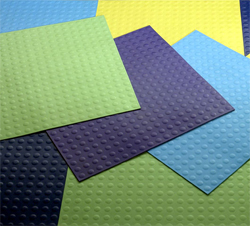 Call
Tel: (718) 526-7890
Fax: (718) 849-1662
Write
Allstate Rubber Corp.
105-12 101st Avenue
Ozone Park, NY 11416
United States of America
Allstate Rubber was founded in 1958 by the Stoler family and is still run by the Stoler family. It is one of the oldest, continually operated family owned firms in the flooring industry. In fact, we know of no other resilient flooring firm that has had the same ownership for as long. In this age of impersonal firms and faceless corporations, itís good to know that there are real people standing behind a quality-manufactured product. We are small enough to offer the service you deserve, yet large enough to be known for continuous innovation.

We offer a complete range of contract flooring. Rubber wall base, rubber tile, FreiFloor TM (PVC + VOC free), Mosaic/MVT tile and stairtreads. Our total color palette is well over 200 colors in all our products. We specialize in beautiful floors that are have long life cycles and require less maintenance. Some products are available though our national distribution network and others factory direct. Either way, we endeavor to provide beautiful and technically advanced floors.

Products: Allstate Rubber Corp.
---
Web Design
Monday, March 27, 2023