D & B Tile Distributors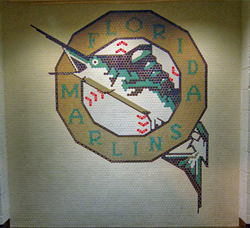 Call
Tel: 954-846-2663
Fax: 954-845-1112
Write
D & B Tile Distributors
14200 NW 4th Street
Sunrise, FL 33325
United States of America
From austere beginnings in post-WWII Miami, the Yarborough family has built an international tile business. When Dave Yarborough bought a World War II surplus truck to begin a tile setting business, little did he know that in the early part of the new millennium, he would be at the helm of a company considered to be one of the largest tile distributors in the United States.

D & B Tile Distributors deals with more than forty manufacturers and imports more than 70% of its product from Italy, Spain, South America and the Far East.

D & B Tile serves all of Florida as well as other parts of the country with our 9 locations. We also provide tile to the Bahamas and the Caribbean.

D & B Tile Distributors keeps a $4 million dollar inventory
at all times in the Sunrise, Florida location which also serves as headquarters for our 9 locations in Florida.
From our earliest days, D & B Tile stressed the importance of quality installation and, to this day, conducts a number of seminars and workshops throughout the year to instruct tile contractors and their installers on new material, equipment and techniques.

We donate tile and other materials to Habitat for Humanity, the Jack and Jill House for abused children, and the Trojan House, built by high school students. We also hold charity golf tournaments to benefit the James Jr. Fund at Joe Dimaggio Childrens Hopitial.


D & B Tile is well situated for the future, and we expect the retail sector of our business to comprise as much as 70% of our total operation. This is also reflected in the nationwide trend of remodeling and renovation.
Products: D & B Tile Distributors
---
Web Design
Saturday, May 28, 2022